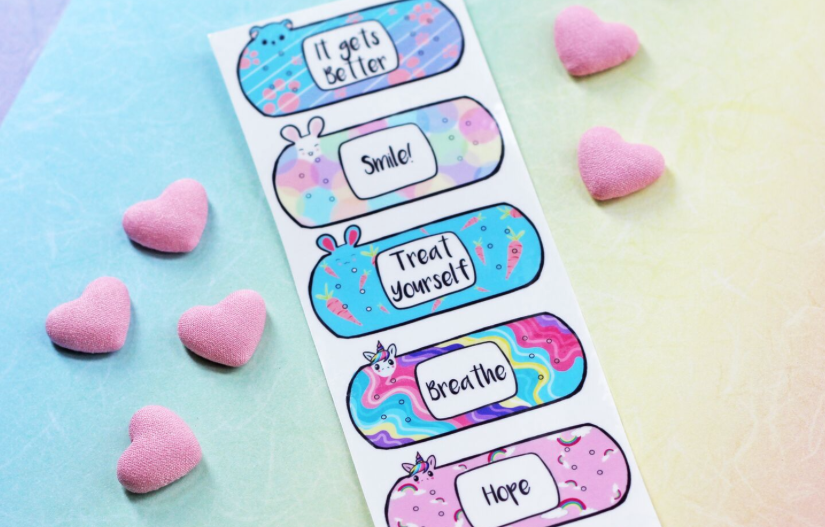 Reporters all over the internet are giving glowing reviews to temporary tattoos that reportedly have the ability to treat debilitating mental illnesses with rainbows.
Motivational Tattoos, an Etsy shop by Francesca Timbers, sells colorful temporary tattoos with cute sayings such as, "believe in yourself," "you are worth it," "love yourself," "treat yourself," and "you are cute."
Reporters, however, are declaring the tattoos can help treat mental illness with mere simple sayings.
The UK Metro's article on the tattoos claims in the headline, "These temporary tattoos are helping people deal with mental illness." Metro's summary reads, "They're designed to help halt self-destructive behaviour." The Evening Standard wrote in their headline, "The motivational temporary tattoos helping people with mental health problems." The Huffington Post UK similarly asserted, "These Temporary Tattoos Are Helping People To Stop Self Harming." They, likewise, also state in their lede the tattoos will help people who suffer from mental illness and prevent them from self-harming.
It appears Timbers also believes the hype around her tattoos. Speaking to the Evening Standard, she said the tattoos will prevent people from self-harming by allowing people a way to express their feelings.
She said, "The idea with the tattoos is that having something visually on your skin offers an alternative way of expressing your feelings and conflicts externally, rather than resorting to self-harming behaviours."
She also told The Independent the same thing.
Although it's absurd to offer temporary tattoos with everyday sayings on them as a real solution to mental illness, Timbers also said the point of the temporary tattoos is to spread awareness and make people feel like they're not alone.
She told Revelist, "I'd like to spread awareness of mental health issues, create a support network and a conversation point around mental health."
"It's also about making what's mostly an invisible illness, visible, and helping people feel less alone in their experiences," she explained.
Thank you for supporting MRCTV! As a tax-deductible, charitable organization, we rely on the support of our readers to keep us running! Keep MRCTV going with your gift here!