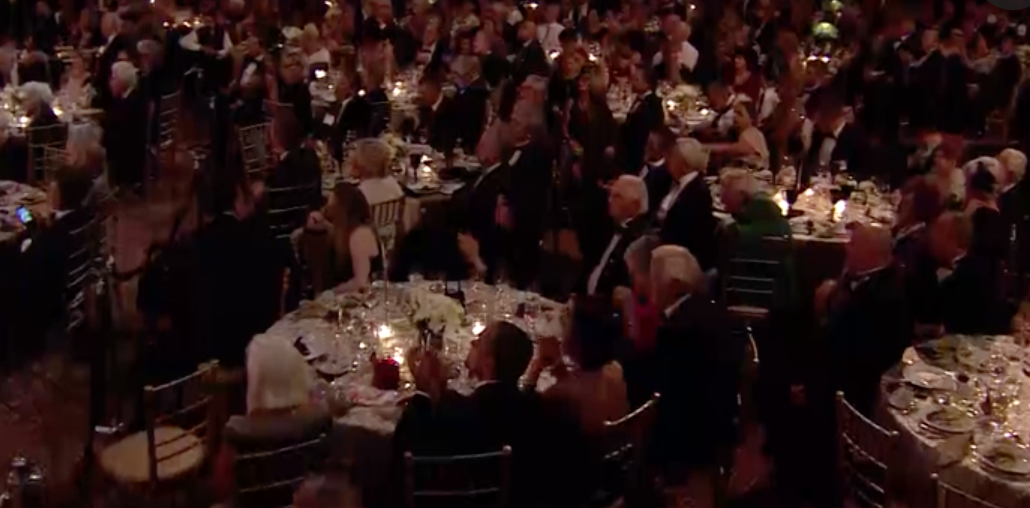 A good time was had by all as the Media Research Center (MRC) celebrated it's 30th anniversary Thursday evening at the National Building Museum in Washington D.C.
The MRC 30th Anniversary Gala saw some of the biggest names in the conservative movement join Founder and President L. Brent Bozell III to have a little fun at the expense of the media and Hollywood alike.
It was a celebration of all the work Bozell and the MRC have done over the last 30 years to combat media bias.
"Brent Bozell and the Media Research Center, and now Newsbusters, are a fundamental element of my show prep day," legendary radio host Rush Limbaugh during his remarks, "and they always have been. They always will be."
The Gala also saw the return of the annual "DisHonors Awards," which are awards given to those in the media and Hollywood who were so over-the-top in their bias that all one can do is laugh.
Awards ranging from the "Kathy Griffin Celebrity Dumbass Award" to the "Dan Rather Memorial Award for the Stupidest Analysis" had guests of the event voting by table for who they thought were the most outrageous in their respective categories over the last year.
Nationally-syndicated radio talk show host and author Mark Levin joined the festivities and sent out praise to both Bozell and the MRC.
"You know, when Brent founded MRC in 1987 less than 25 percent of Americans believed the news media had a liberal bias," Levin said. "Today, thanks to the MRC, the overwhelming majority, nearly 90 percent of Americans, believe the media are biased and overwhelmingly liberal."
MRC and the Gala were also privileged to enjoy the company of, not only the excited and energized people in attendance, but other very special guests.
Those guests included (in alphabetical order):
Brigitte Gabriel - Founder and Chairman of ACT for America, New York Times Best-Selling Author and frequent guest analyst on Fox News, CNN and MSNBC.
Mollie Hemmingway - Senior Editor at The Federalist and journalist whose work has appeared in publications all over the country.
Jeffrey Lord - Former White House political director during the Reagan administration, writer and commentator, contributing writer for NewsBusters and frequent guest on Fox News, CNN, CNBC, the Fox Business Channel and Newsmax TV.
Rep. Mark Meadows - Republican Congressman for the 11th District of North Carolina.
Joe Piscopo - Comedian, actor and AM 970 radio host.
Chris Plante - Syndicated radio host of the Chris Planet Show on WMAL Radio and former recipient of the Edward R. Murrow Award for his reporting from the Pentagon during the terrorist attacks on September 11, 2001.
Cal Thomas - One of the most popular syndicated columnists in the country and frequent guest on Fox News and other media outlets.
Of course, what would an MRC Gala be without closing remarks from the man himself, Brent Bozell, who deflected credit to himself and gave it those who work closely with him.
"This is not about me, and it's never been about me," Bozell said. "Tonight it's about the MRC celebrating her 30th birthday[…]Aim your applause at those who have worked for this organization, past and present, literally hundreds of them over the past 30 years."
If you would like to view the MRC 30th Anniversary Gala, please watch below: