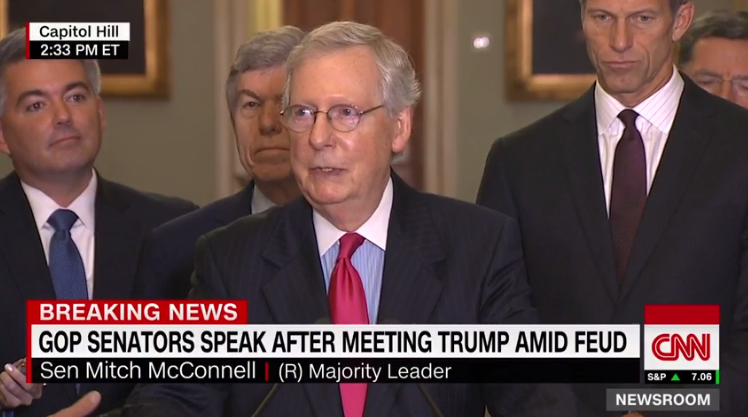 Image via Screenshot
Amid an ongoing, heated feud between President Trump and Tennessee Sen. Bob Corker, Senate Majority Leader Mitch McConnell said on Tuesday that "if there's anything all Republicans" can agree on, it's comprehensive tax reform. 
He added that the issue "brings about great unity" among members of the party. 
"If there's anything all Republicans think important to the country and to our party is comprehensive tax reform," McConnell said during a press conference on Capitol Hill. "The issue itself brings about great unity among our members."
"And so we're concentrating on the agenda we have for the American people, and the President shares that agenda," he continued.
Trump and Corker continue to feud over the President's claims that Corker did not run for reelection because Trump refused to endorse the Tennessee senator.
Trump has also accused Corker of fighting tax cuts and being "only negative on anything Trump."
Corker in an interview with CNN ahead of a meeting between Trump and Senate Republicans on tax reform said that the President "has great difficulty with the truth on many issues."
"Corker sits on the Senate Budget Committee and is a key vote on tax legislation," reports The Hill. "Trump and Senate GOP leaders can only afford to lose two votes on a tax overhaul and still pass it."
Thank you for supporting MRCTV! As a tax-deductible, charitable organization, we rely on the support of our readers to keep us running! Keep MRCTV going with your gift here!