They got him! The Secret Service released a statement on Thursday announcing that Beverly, Mass. resident Daniel Frisiello has been arrested for reportedly sending letters containing "white powder" to Donald Trump Jr. and four others in February.
According to the statement:
Daniel Frisiello, 24, was charged in a criminal complaint with five counts of mailing a threat to injure the person of another and five counts of false information and hoaxes. Frisiello was arrested this morning and will appear in federal court in Worcester later this afternoon.

As alleged in court documents, law enforcement has connected Frisiello to at least five incidents of high-profile individuals around the country who received an envelope that bore a Boston postmark, containing suspicious white powder and a note indicating or implying that the powder was dangerous or intended to cause harm.
Judging by Frisiello's Facebook page, he's not the biggest fan of Republicans and the Trump family in general.
Here are just a couple of examples of posts from Frisiello's Facebook page (What sweet irony on the first post):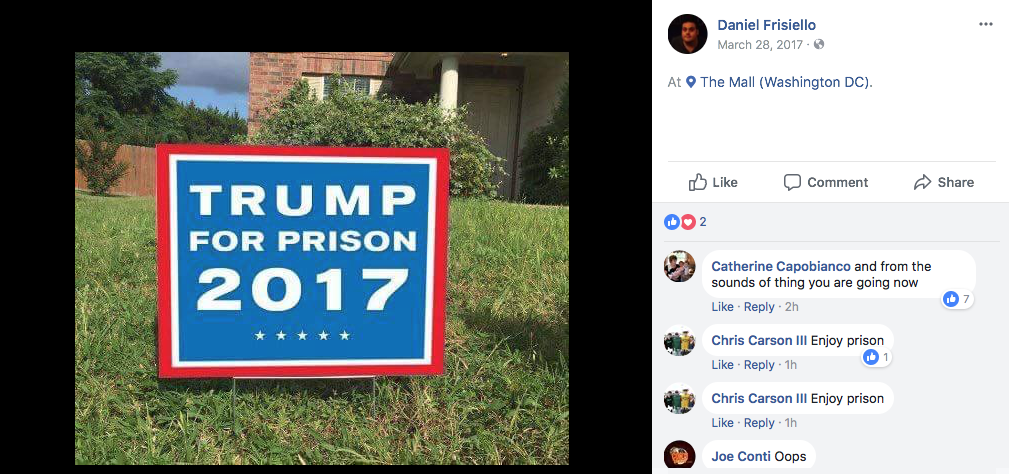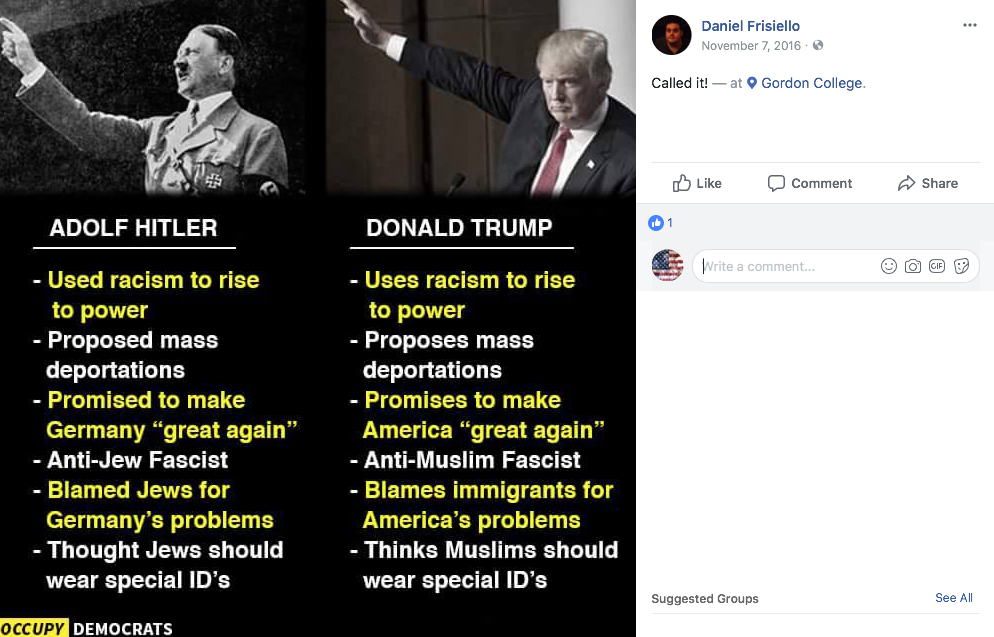 The statement also included what Frisiello wrote to Trump Jr. in the letter that came with the "white powder."
"You are an awful, awful person, I am surprised that your father lets you speak on TV," Frisiello wrote. "You make the family idiot, Eric, look smart. This is the reason why people hate you, so you are getting what you deserve. So shut the **** UP!"
It's also being reported that Frisiello is cooperating with the FBI on this investigation.
The DOJ statement also noted the four other people that received letters from Frisiello that also contained an "unknown suspicious white powder."
The statement continued:
The second envelope was addressed to Nicola T. Hanna, the Interim United States Attorney for the Central District of California. Also postmarked in Boston on Feb. 7, 2018, the envelope contained an unknown suspicious white powder, which spilled out when it was opened.

Subsequent envelopes containing threatening letters were mailed to Michele Dauber, a Professor of Law at Stanford University; U.S. Senator Deborah Stabenow of Michigan; and Antonio Sabato Jr., who is running for a congressional seat in California.

After each envelope was opened, a hazardous material response was required by law enforcement.
It's still unclear what the mysterious "white powder" actually was. It was Trump Jr.'s wife, Vanessa, who opened the letter and discovered the substance inside the envelope. Vanessa Trump was transported to a New York hospital as a precaution, but the substance was later deemed "non-hazardous."