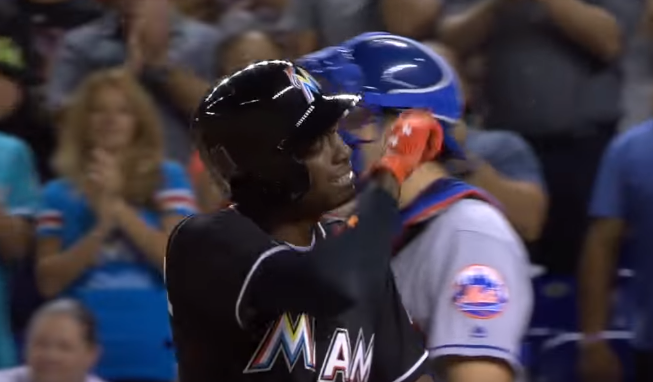 (Image: Screenshot/YouTube)
There is a romance to the game of baseball and there are times the sport can help those in need of healing. Monday was one of those nights for the Miami Marlins franchise and all of baseball in general.
Jose Fernandez, who passed away on Sunday after a boating accident, was one of the best pitchers at the young age of 24. Sunday's tragic accident ended what was a promising superstar career way too early.
In remembrance of their fallen teammate, the entire Miami Marlins roster wore a Jose Fernandez jersey emblazoned with his number, 16. Monday's game against the New York Mets was the first game since Fernandez's death. The Marlins-Atlanta Braves game was cancelled on Sunday because of the accident.
In what can only be described as miraculous, Marlins second baseman Dee Gordon led off the game with a home run on only the third pitch of the ballgame. What makes this moment even more spectacular is the fact the Gordon rarely hits home runs.
ESPN reported that Gordon average one home run every 239.2 at-bats, which translates to about two to three home runs every year. Gordon himself couldn't contain the emotion of the moment as he began to shed tears as he rounded the bases. He completely broke down after completing the trip around the diamond when he returned to his teammates.
Gordon said of the moment:
It seemed like it took forever. I was just trying to go back to my teammates as fast as possible, and I couldn't get there. I was just wondering why [Jose Fernandez] wasn't on the top of the steps cheering for me.
Before the at-bat, Gordon gave a special nod to Fernandez by wearing a helmet with his number on it and taking a pitch in the right-handed batters box. After the pitch, Gordon switched out helmets and took his place in his usual spot of the left-handed batters box.
After the game, the owner of the Marlins, Jeffrey Loria, said, "Nobody is going to wear [No. 16]. I can tell you that now. Nobody will wear that number again."
For video of the emotional home run, watch below: