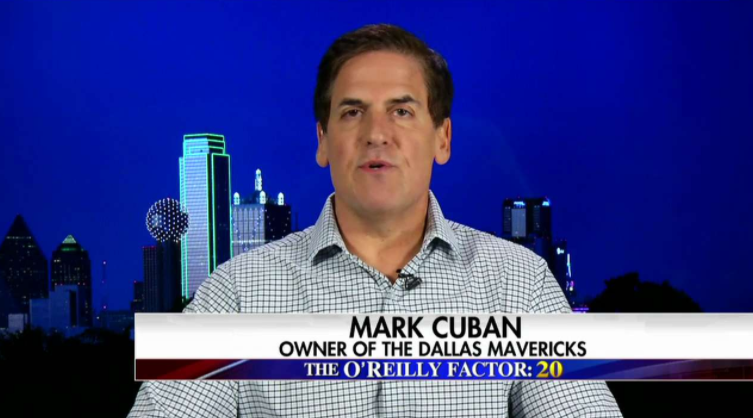 (Image via Twitter)
Billionaire entrepreneur Mark Cuban and President Donald Trump are in the midst of yet another war of words, attacking the other's leadership aptitude and character. 
Cuban in an appearance on Tuesday night's "The O'Reilly Factor" said that the President has yet to demonstrate "any leadership."
​"I don't think Trump he's been able to show any leadership," said the Dallas Mavericks owner and "Shark Tank" celebrity. "I don't think he's taken responsibility for the White House. I don't think he's shown them any direction."
He argued that there's a "divergence in communications" in the White House, citing the recent controversy surrounding Gen. Michael Flynn and his resignation as Trump's national security adviser.
Cuban added that with regards to policy, Trump needs to address the "macro issues" – whether it be how the nature of work is changing, the evolution of technology, and so on – in order to effect real change.
"He's shuffling deck chairs on the Titanic by going and talking to these companies and dealing with five and ten and even 25 thousand jobs at a time," he went on. "He hasn't demonstrated that he understands the bigger picture."
Despite having been friends in the past, Cuban became one of President Donald Trump's most outspoken critics during the election cycle, calling his brand "toxic" and claiming he would "rather lose every penny than have Trump as president."
Trump over the weekend wrote a fiery tweet about Cuban, saying that he "wasn't interested" in taking Cuban's calls, adding that Cuban's "not smart enough" to be the leader of the free world.
It remains unclear what motivated Trump to bring his quarrel with Cuban back into the spotlight.
Cuban responded on Sunday with a simple "Lol" and then a tweet of a conversation he and Trump had back in April where he told Trump that he has "a real chance to win" – only if he would "really dig into the issues."
When asked by one of his Twitter followers why Trump went after him over the weekend, Cuban replied, "I don't know."
He added in a jab by saying that it's better the President is tweeting "rather than trying to govern."
President Trump has yet to respond. 
Thank you for supporting MRCTV! As a tax-deductible, charitable organization, we rely on the support of our readers to keep us running! Keep MRCTV going with your gift here!