Hollywood sweetheart Mario Lopez has come under fire after sharing that he feels it is "dangerous" for parents to encourage or support their children self-identifying as transgender when they're still just that: children.
During a recent interview with Candace Owens on PragerU's "The Candance Owens Show," Lopez was asked what he thought of recent trends and "this new Hollywood mentality where [celebrities] just think their children now have the mental authority" to determine their gender.
"I am trying to understand it myself, and please don't lump me into that whole [group]," the "Access Hollywood" host replied. "I'm kind of blown away too. Look, I'm never one to tell anyone how to parent their kids obviously and I think if you come from a place of love, you really can't go wrong but at the same time, my God, if you're 3 years old and you're saying you're feeling a certain way or you think you're a boy or a girl or whatever the case may be, I just think it's dangerous as a parent to make this determination then, well, OK, then you're going to a boy or a girl, whatever the case may be."
"It's sort of alarming and my gosh, I just think about the repercussions later on," he continued. "When you're a kid ... you don't know anything about sexuality yet. You're just a kid."
The interview was published last week but for some reason just caught Twitter's attention late Tuesday night, with people outraged that Lopez would have the nerve to have his own opinion.
Thanks to misleading titles by the media, many attacked Lopez and condemned his career, accusing him of opposing parents' supporting their transgender kids and LGBTQ rights altogether. That was not what he said.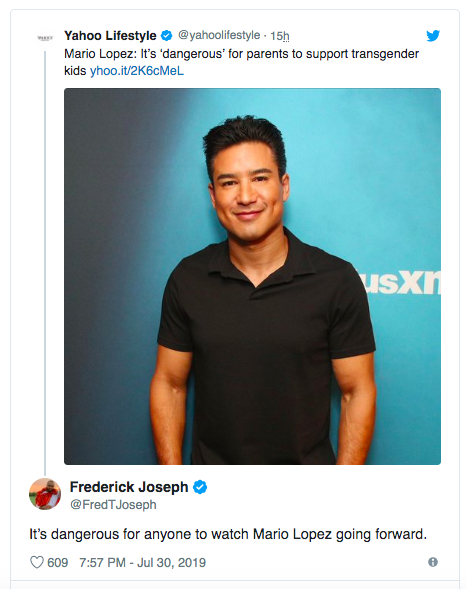 The video of the interview has since gone viral, with over 1.3 million views.
Many came to his defense on Wednesday, saying that people were "twisting" what he said to make it sound bigoted.
As a father of three, Lopez is entitled to his opinion. His position is reasonable, speaking on a three-year-old being able to self-identify. Hopefully this interview doesn't motivate the overcompensating in Hollywood to take away his current and future career opportunities, but the rest of the potential backlash remains to be seen.