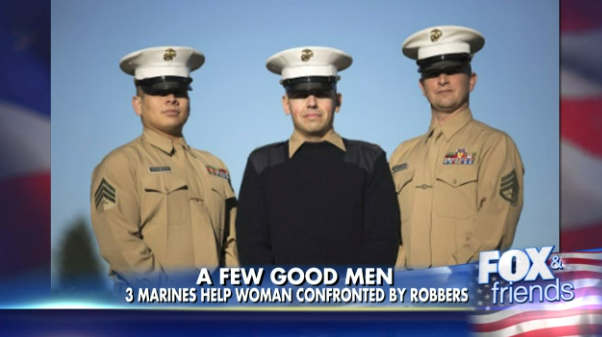 Three brave U.S. marines rushed outside their Seattle recruiting office when they heard a woman's cries for help, reported Fox News.
Their recruiting office adjacent to a mall, Sgt. Ricardo Schebesta, Staff Sgt. Ben Shoemaker and Staff Sgt. Bryson Twigg hurried outside where they saw a woman driving erratically over curbs in the parking lot.
Shoemaker caught up to the woman who rolled down her window and pleaded for help, telling the soldier that she was being robbed and that the thugs  have a gun.
Shoemaker caught up to the woman, who rolled down her window and told him she was being robbed. She warned that the thugs in question had a gun and pleaded for the marines' help.
Shoemaker and Schebesta then chased after the suspects, who fled soon as the woman pointed them out.
The marines ran through traffic in the streets and soon apprehended one of the suspects.
"That's when I put him in a wristlock and Sgt. Schebesta blocked his back," Shoemaker said.
The sergeants admitted that they put the robbery suspect in a wristlock as opposed to tackling him down to the ground because they didn't want to get their dress blues dirty.
"That is correct," Shoemaker said.

"That's awesome," Fox News' Steve Doocy replied.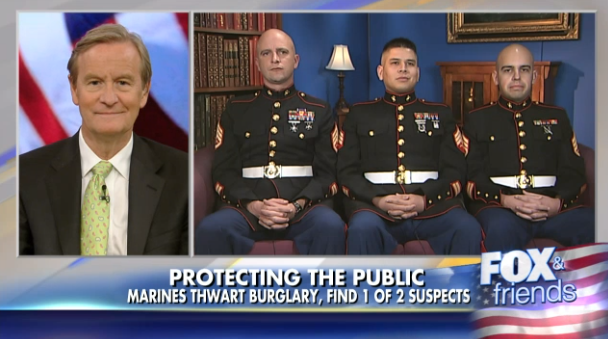 While Shoemaker and Schebesta chased down the fleeing suspects, Twigg dialed 911.
"While they were detaining him, I was on the phone with 911," Twigg said. "There were no police on the scene at that time."
When the police arrived, they arrested the 19-year-old suspect, Diego Tavares, who is now in jail on a $25,000 bail.
The victim, who is a retired police officer, commented that she "wasn't going to let those punks" rob her.
The sergeants made sure of that. 
Check out what the "few good men" had to say below.
H/T Fox News Insider
Sponsored Links