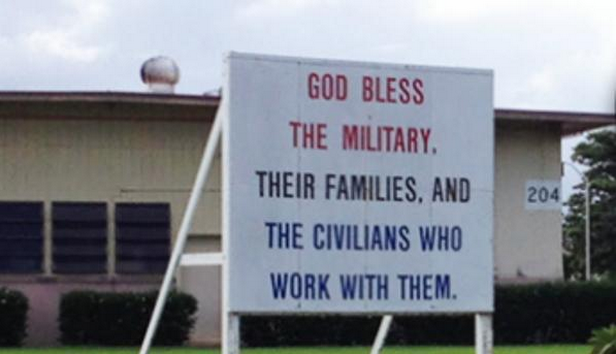 Image via Twitter
A civil rights watchdog group is targeting Marine Corps Base Hawaii for displaying a sign that reads "God bless the military" on shared military grounds. 
Honolulu Star reports,
"A mainland watchdog group is crying foul over a 'God bless the military' sign on the Marine base in Kaneohe, claiming the display violates the U.S. Constitution. 

"Military Religious Freedom Foundation [MRFF] sent an email Thursday to Col. Sean Killeen, commanding officer of Marine Corps Base Hawaii, asking that the sign be moved to the chapel grounds or removed. 

"The advocacy group alleges the sign is a 'brazen violation' of the Establishment Clause of the Constitution, which forbids the government from promoting one religion over another. 

"The group's email said the sign 'sends the clear message that your installation gives preference to those who hold religious beliefs over those who do not.'"
According to MRFF founder Mikey Winstein, 23 Marines had contacted his nonprofit to complain about the sign.
The display in question reads in full,
"God bless the military, their families, and the civilians who work with them."
The Marines who contacted MRFF reportedly did not lodge their complaints with their chains of command for fear of "reprisal."
After receiving an emailed complaint via MRFF, the Marine Corps Base Hawaii commanding officer "ordered his staff to research the sign's origin and its compliance with existing regulations," reports a local newspaper.
The investigation is ongoing.
For more, watch the Fox News report below.
H/T Fox News Insider