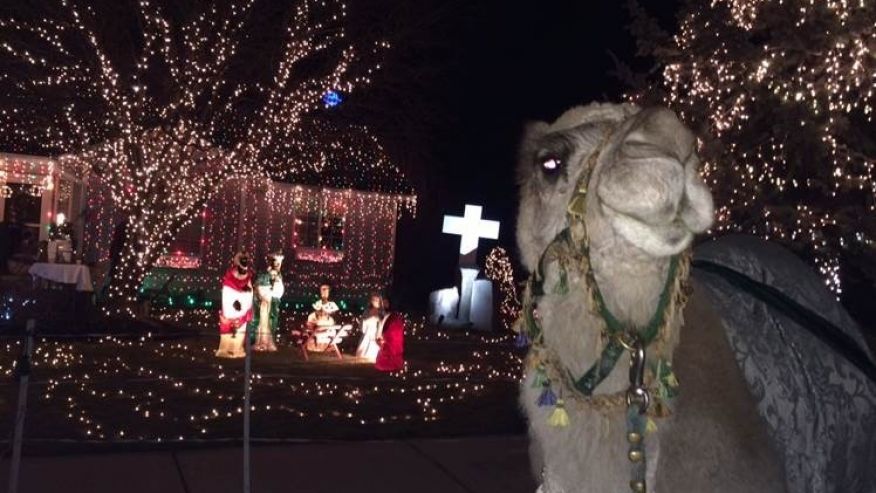 Image via Jeremy Morris, Fox News
A man was told by his neighborhood homeowners association to remove his Christmas decorations for fear of offending non-Christians, Fox News reports.
Every year, Jeremy Morris of Hayden, Idaho goes above and beyond with his Christmas display. He uses tens of thousands of lights, a living Nativity scene with an actual camel by the name of Dolly, and even a 22-voice choir.
The display is so impressive that folks from all over town travel just to see it. 
But the homeowners association of his new neighborhood West Hayden Estates does not share the same enthusiasm.
Fox News explains,
"Last year, he purchased a home in their neighborhood – with hopes of making his annual holiday event bigger and better.

"It takes about three months to install all the lights and the decorations – so the Morrises are already hauling out the holly and reindeer and other holiday accessories.

"Hence, the war on Christmas in Autumn.

"The HOA objected to the lavish display and put Jeremy on their naughty list.

"They were especially upset about the religious nature of Jeremy's display – as noted in a certified letter he said he received from the homeowner's association board."
In the letter, the West Hayden Estates HOA expressed that Morris's Christmas display could be problematic for residents that are "non-Christians or of another faith."
"I am somewhat hesitant in bringing up the fact that some of our residents are non-Christians or of another faith and I don't even want to think of the problems that could bring up," the letter read.
The Morris family also received a letter from the board attorney complaining their display would infringe on neighbors' private property rights.
"Your event will be offensive to the senses and will interfere with the comfortable enjoyment of your neighbors' private property rights," attorney Scott Poorman wrote.
"Your planned event will be a nuisance to the entire neighborhood... Simply put, the quiet residential neighborhood of West Hayden Estates First Addition is not an appropriate location for such activities," he argued.
Despite the complaints, Mr. Morris has no plans to take down his decorations.
"Their real agenda is to attack Christians," he said.
"This is about hostility towards people of faith. I have certain religious beliefs that I hold dear to my heart. We wanted to help people in the community and promote Christmas as the Christian holiday it's always been."
Morris went on to say, "I live in the United States. I live in the state of Idaho – where we are supposed to still have some religious freedom."
"And if I want to witness to people on my driveway or on my lawn, that's my right."
The sad thing is, this probably won't be the first time we hear about an assault on Christianity or religious freedom this holiday season. 
MRCTV Reader,
The liberal media are terrified of the truth, especially when it leads to uncomfortable questions about their own leftist worldview.
MRCTV is the multimedia division of MRC featuring original content and aggregated videos of the news, people, and events conservatives care about.
MRCTV relies on the support of our loyal readers (and video viewers) to keep providing the news and commentary that matter to the American people, not just stories that prop up the liberal agenda.
Make a donation today. Just $15 a month would make a tremendous impact and enable us to keeping shining the light where the liberal media are afraid to tread.
— The MRCTV Team
DONATE
Connect
Sign up for our MRCTV newsletter to receive the latest news.
Sponsored Links