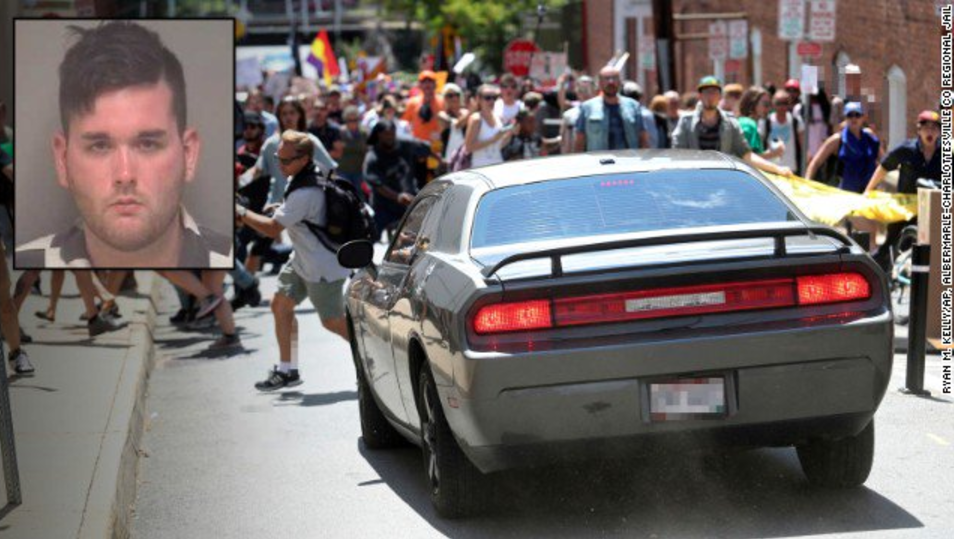 Image via Twitter
The man accused of plowing through a crowd of counter-protesters at a white supremacist rally in Charlottesville, Va., over the weekend was denied bond on Monday, the Associated Press reports.  
The judge was forced to appoint a local attorney, Charles Weber, to represent 20-year-old James Alex Fields Jr. The public defender's office refused to represent him because a relative of someone in the office was injured in Saturday's protest. 
Fields is being held on suspicion of second-degree murder, three counts of malicious wounding and failure to stop. He is accused of driving his Dodge Challenger through a crowd of protesters, killing 32-year-old Heather Heyer of Charlottesville and injuring 20 others.
His next hearing is set for Aug. 25.
Fields was known to be "fascinated with Nazism," AP reports.
"Fields had been photographed hours earlier with a shield bearing the emblem of Vanguard America, one of the hate groups that took part in the 'take America back' campaign to protest the removal of a Confederate statue," writes AP. "The group on Sunday denied any association with the suspect."
President Trump at a press briefing on Monday condemned the attack as an "egregious display of hatred, bigotry and violence," MRCTV reports.
He called the KKK, neo-Nazis, and white supremacists "hate groups that are repugnant to everything we hold dear as Americans."
Trump announced that the Department of Justice was opening a civil rights investigation into the incident.
Thank you for supporting MRCTV! As a tax-deductible, charitable organization, we rely on the support of our readers to keep us running! Keep MRCTV going with your gift here!
Please support MRCTV today! (a 501c3 non-profit production of the Media Research Center)
DONATE