While academics and activists claim that the differences between the genders are all socially constructed and enforced by the patriarchy, a recent poll of adults in the United Kingdom reveals the majority of adults believe men and women are fundamentally different.
A YouGov UK poll conducted on Oct. 20 asked 3,168 adults living in the United Kingdom their view on gender as a social construct.
Asked which position comes closest to their view, 58 percent of respondents said their view most aligns with the statement, "Men and women are fundamentally different in the way they think and act, and society merely reflects this." Only 26 percent of respondents replied they most agree with the statement "Men and women would be fundamentally the same in the way they think and act - the differences between them are all down to society."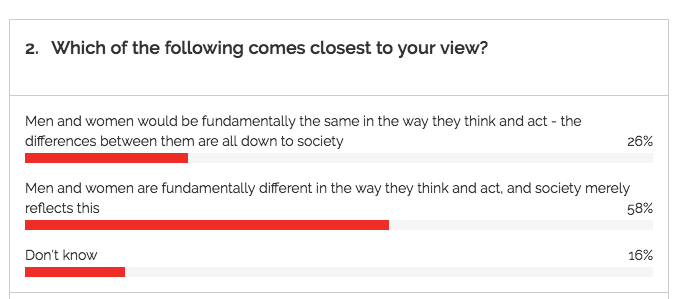 (Image source: YouGov UK)
Both men and women had similar results. Broken down by gender, 59 percent of men and 57 percent of women responded that they believe men and women are fundamentally different. The poll also showed 26 percent of men and 27 percent of women believe the differences between men and women are socially constructed.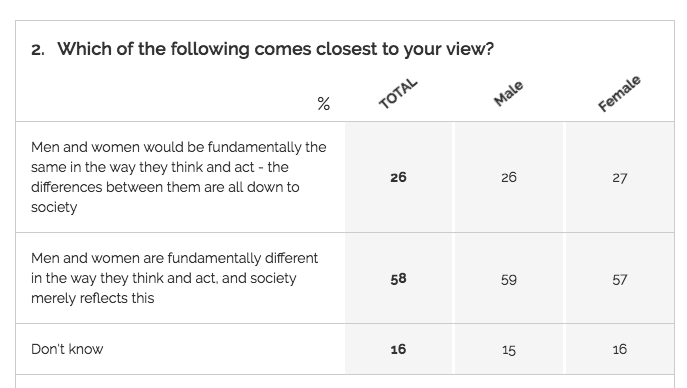 Given the increase in parents choosing to raise their kids "gender-neutral" for the sake of some social progress, perhaps it's important to remember that not everyone believes the evil societal patriarchy is keeping children—and women—down because of their genders.
Thank you for supporting MRCTV! As a tax-deductible, charitable organization, we rely on the support of our readers to keep us running! Keep MRCTV going with your gift here!
MRCTV Reader,
The liberal media are terrified of the truth, especially when it leads to uncomfortable questions about their own leftist worldview.
MRCTV is the multimedia division of MRC featuring original content and aggregated videos of the news, people, and events conservatives care about.
MRCTV relies on the support of our loyal readers (and video viewers) to keep providing the news and commentary that matter to the American people, not just stories that prop up the liberal agenda.
Make a donation today. Just $15 a month would make a tremendous impact and enable us to keeping shining the light where the liberal media are afraid to tread.
— The MRCTV Team
DONATE
Connect
Sign up for our MRCTV newsletter to receive the latest news.
Sponsored Links