Just in time for Halloween, an Economist/YouGov poll has revealed that while a majority of Americans claim to support freedom of speech on college campuses, a majority also supports colleges restricting students from wearing allegedly offensive costumes.
The poll shows that while a majority of those polled believe colleges should protect freedom of expression (47 percent said they "strongly agree" and 29 percent responded they "agree somewhat"), when it comes to costumes, a majority support colleges restricting students' choices if they're deemed offensive or stereotypical.
Asked whether they believe colleges should be able to restrict costumes that "stereotype certain racial or ethnic groups," 51 percent of respondents claimed they think schools should be able to restrict those costumes.
At the same time, however, the poll reveals a majority 52 percent (or 51 percent, according to the tab report) believe schools should not be able to restrict people from expressing political views that can be considered offensive to "certain groups."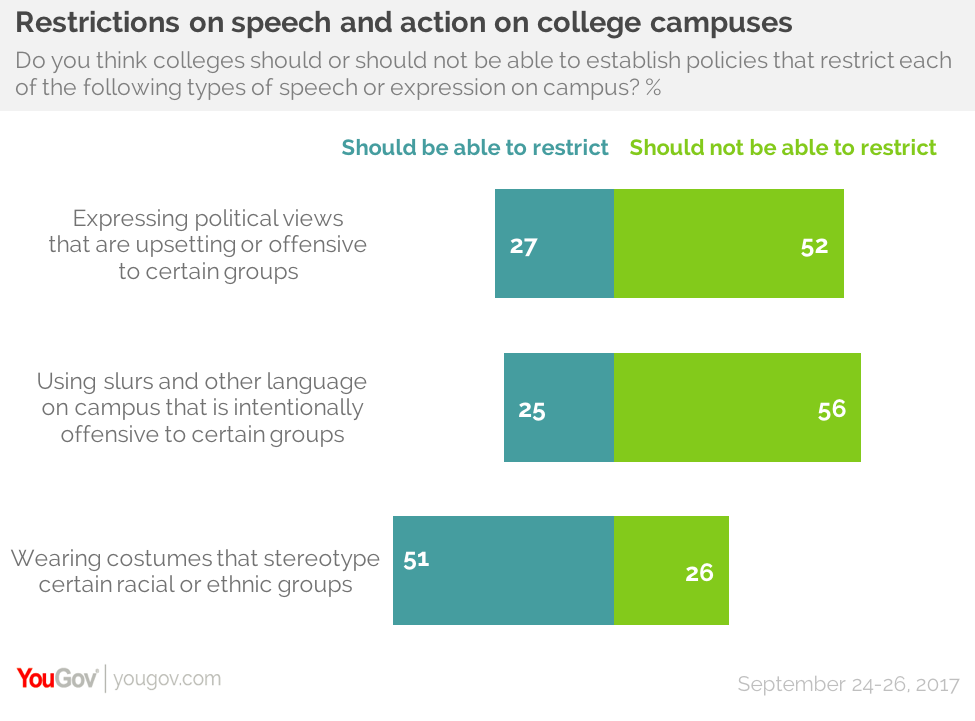 (Image source: YouGov)
Colleges have been attempting to curtail offensive costumes by issuing guidance against any costumes that can be considered offensive. In 2015, one school in Canada even banned a Colombian student from wearing a mariachi costume. A lecturer at Yale University resigned after protests arose from him defending an email that said students are able to decide for themselves what costumes are appropriate.
Thank you for supporting MRCTV! As a tax-deductible, charitable organization, we rely on the support of our readers to keep us running! Keep MRCTV going with your gift here!
MRCTV Reader,
The liberal media are terrified of the truth, especially when it leads to uncomfortable questions about their own leftist worldview.
MRCTV is the multimedia division of MRC featuring original content and aggregated videos of the news, people, and events conservatives care about.
MRCTV relies on the support of our loyal readers (and video viewers) to keep providing the news and commentary that matter to the American people, not just stories that prop up the liberal agenda.
Make a donation today. Just $15 a month would make a tremendous impact and enable us to keeping shining the light where the liberal media are afraid to tread.
— The MRCTV Team
DONATE
Connect
Sign up for our MRCTV newsletter to receive the latest news.
Sponsored Links