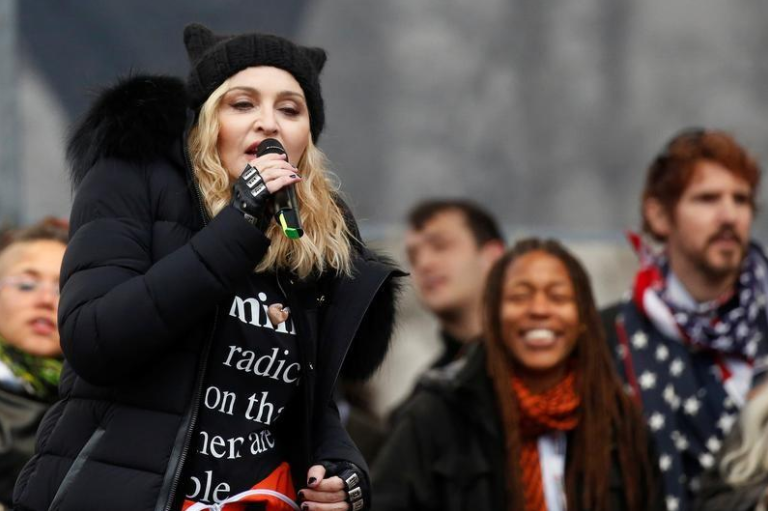 (Image via Twitter)
Madonna on Sunday defended her explosive remarks at the Women's March in Washington, D.C., over the weekend.
At the rally, the iconic pop singer spoke about how "angry" and "outraged" she is at the election of President Donald Trump, going so far as to say that she's "thought an awful lot about blowing up the White House."
"But I know that this won't change anything," she added. "We can't fall into despair."
If that wasn't enough, Madonna had just two words for any and all critics of Saturday's march: "F--- you."
That lovely message was broadcasted live on CNN, MSNBC, and other major news networks.
In response to a wave of backlash for her violent remarks, Madonna took to social media to defend herself:
"Yesterday's Rally. was an amazing and beautiful experience. I came and performed 'Express Yourself' and thats exactly what i did," Madonna's Instagram post reads. "However I want to clarify some very important things.
"I am not a violent person, I do not promote violence and it's important people hear and understand my speech in it's entirety rather than one phrase taken wildly out of context."
She continues, "I spoke in metaphor and I shared two ways of looking at things — one was to be hopeful, and one was to feel anger and outrage, which I have personally felt. However, I know that acting out of anger doesn't solve anything. And the only way to change things for the better is to do it with love."
What she had to say didn't sound much like a metaphor at all.
Check out Madonna's full speech here and let us know what you think in the comments section below. 
Thank you for supporting MRCTV! As a tax-deductible, charitable organization, we rely on the support of our readers to keep us running! Keep MRCTV going with your gift here!