Before the rain had stopped falling, scumbags all over Florida were caught looting while Hurricane Irma was still unleashing its wrath on residents of the Sunshine State.
According to the Daily Mail, "At least 32 people have been arrested across Florida for trying to loot empty businesses and homes that have been evacuated in preparation for Hurricane Irma - 28 alone in Miami, according to local authorities."
From Orlando to Miami, these human wastes of space did everything from loot businesses to breaking into evacuated homes in order to steal from hurricane evacuees. Some criminals even attempted to steal guns from a sporting goods store (the joke was on them, though, as the store was apparently empty).
In perhaps the worst example of humanity, several criminals posed as utility workers during the storm, knocking on doors and robbing people at gunpoint.
Local police departments are on the scene combatting looters as best they could during a hurricane. Check out this Facebook post from the Miami Police Department: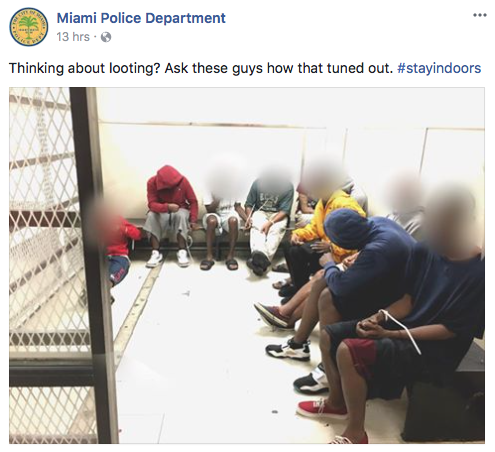 Despicable.
MRCTV Reader,
The liberal media are terrified of the truth, especially when it leads to uncomfortable questions about their own leftist worldview.
MRCTV is the multimedia division of MRC featuring original content and aggregated videos of the news, people, and events conservatives care about.
MRCTV relies on the support of our loyal readers (and video viewers) to keep providing the news and commentary that matter to the American people, not just stories that prop up the liberal agenda.
Make a donation today. Just $15 a month would make a tremendous impact and enable us to keeping shining the light where the liberal media are afraid to tread.
— The MRCTV Team
DONATE
Connect
Sign up for our MRCTV newsletter to receive the latest news.
Sponsored Links