The brand spanking new Mayor of London, Sadiq Khan, didn't waste any time giving the world his two cents on the upcoming presidential election in the United States.
Speaking to CNN's Christine Amanpour on Wednesday, Khan, London's first-ever Muslim mayor, didn't hold back on his feelings toward presumptive GOP nominee Donald Trump.
A choice of somebody who is trying to divide not just your communities in America, but who is trying to divide America from the rest of the world. And I think that, you know, that's not the America that I know and love. I'm hoping he's not the guy that wins.
This comes after Trump said he would make an exception for Khan when it came to Trump's "Muslim ban." In response, Khan suggested that Trump's rhetoric could cause an escalation in extremism in both the U.K. and the U.S.
"Donald Trump's ignorant view of Islam could make both our countries less safe -- it risks alienating mainstream Muslims around the world and plays into the hands of the extremists," Khan
said
.
Who is Khan to have any say in our political process? No matter who anyone supports in the presidential race, the same type of process that elected him mayor in London is the same process that he is trying to influence in the U.S. Usually leaders around the world do not publicly take a position on who they want elected in the U.S. We may know who they would prefer, but they typically keep that information to themselves.
But Khan did not stop there -- he proudly threw his support behind Democratic presidential candidate Hillary Clinton:
I'm the father of two daughters. I'm a proud feminist in City Hall. Just imagine the message it sends to my daughters and to girls around the world that the president of the United States is a woman. Not any old woman, a woman with the gravitas, with the experience, someone who is a unifier.
Khan's support of Clinton is not all that surprising, considering what Clinton said during a foreign policy speech back in November of last year:
"Muslims are peaceful and tolerant people and have nothing whatsoever to do with terrorism," Clinton said.
Clinton even sent out a tweet congratulating Khan on his mayoral victory: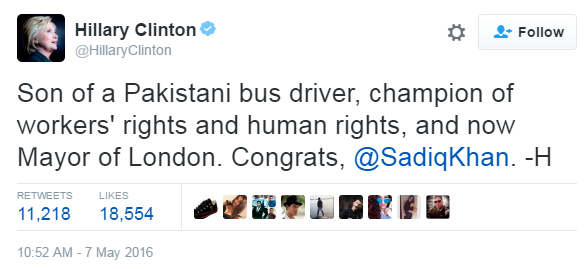 While Khan is and might be those things, he also could be something else entirely. Despite Khan never admitting to, and at times flat-out denying, that he had any ties with radical Islam in his past, the evidence points to the contrary:
There's more, but you get the idea. Khan is not what he seems. He's very polished, highly educated and speaks well to large groups. That sounds a lot like someone else we know.