If you're looking for perhaps the cutest story of the Christmas season, the story of five-year-old Mississippi boy TyLon Pittman might be right up your alley.
TyLon, who wants to be a police officer when he grows up, called 911 last Saturday after he had just watched the Christmas classic, "How the Grinch Stole Christmas." The little boy was worried that the Grinch was going to steal everyone's Christmas presents, so TyLon took matters into his own hands.
"You better not have," TyLon's mother, TeResa Pittman said upon hearing from her son that he called the police.
But, TyLon did in fact do just that.
A short time later, Byram Police Department Officer Lauren Develle showed up to very sweetly address the boy's concerns. TeDera Dwayne Graves, Tylon's brother, had just come back home from the Air Force and opened the door for Develle.
"I'm looking for a little boy who was watching 'The Grinch,'" Officer Lauren Develle told Graves. "He called to say the Grinch is going to steal his Christmas."
TyLon did his due diligence and shared the evidence he had collected with Develle in the form of a YouTube video showing the Grinch's transgressions.
"I want him to come to my house and take him to jail," TyLon told Develle in a Facebook video posted by Graves. "I want to get him."
TyLon was dead serious. There was no way this adorable little boy was going to let the Grinch steal anybody's holiday.
"The Grinch is not going to come and steal your Christmas," Develle told TyLon. "I'm not going to let that happen."
As if the special visit from Officer Develle wasn't cool enough for TyLon, the Byrum Police Department invited TyLon and his family to come to the station so that the little boy could have some peace of mind and throw the Grinch in jail himself.
Here's a screenshot of a picture Graves took of TyLon with Officer Develle and the Grinch himself: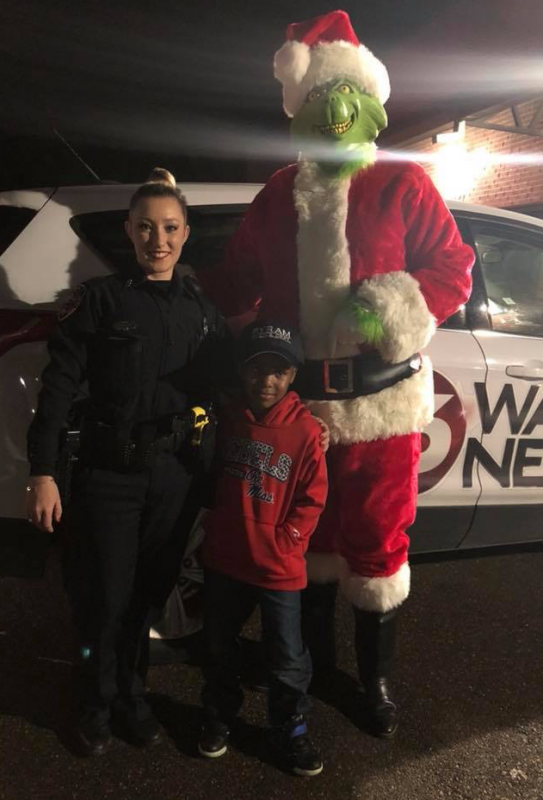 According to CBS News:
After locking up the Grinch for good, TyLon joined Thompson for a tour of the police station. He was given a goodie bag, sat in the front of a squad car and got his very own copy of "How the Grinch Stole Christmas." But that's not all.

"The police chief told him, 'I'm going to give you these little handcuffs, and little police car now. But when you turn 21, come back here. We'll give you an application,'" Graves said.
Here a screenshot of a picture Graves took of the TyLon at the police station receiving his "goodie bag":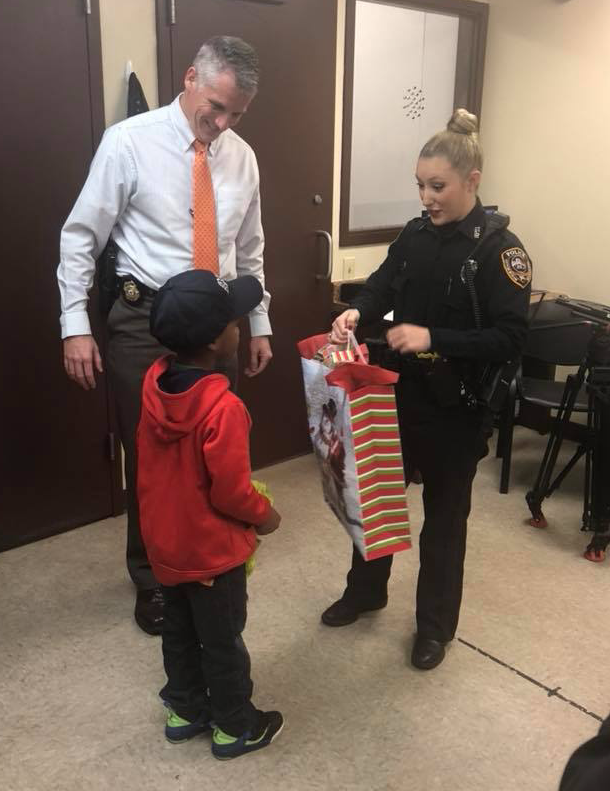 I know I'll feel safe knowing that one day TyLon might be patrolling the streets — at least around Christmas time.