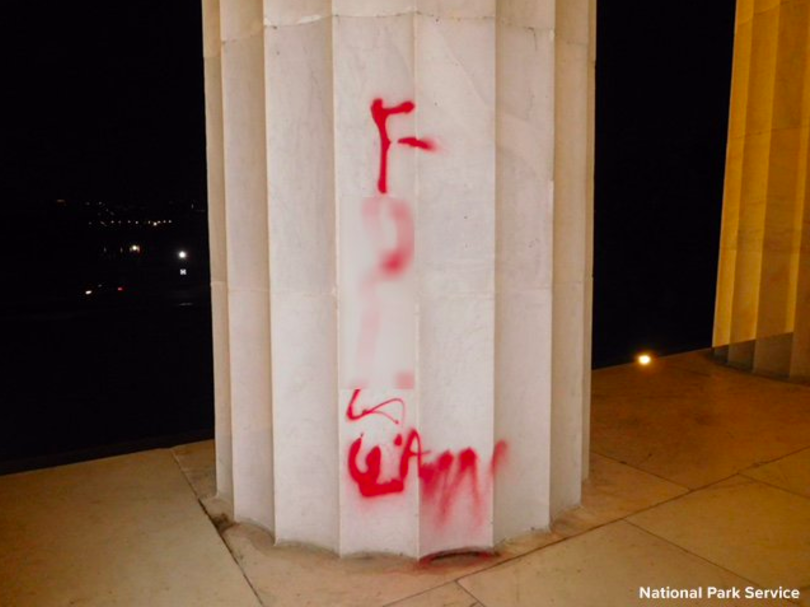 The Lincoln Memorial in Washington, D.C., was vandalized overnight Tuesday, the National Park Service said in a press release.
The vandal used red spray paint to write the words, "F--- law," on a pillar of the memorial.   
The NPS say they discovered the graffiti at around 4:30 a.m. eastern.
The crime is a federal offense.
"It's frustrating, not only for the Park Service but certainly for the visitors that come here, that anyone would vandalize any of our iconic memorials," NPS spokesman Mike Litterst told NBC Washington. "Especially the Lincoln Memorial. Especially with everything that's going on now -- the calls for unity and people to come together."
"To go to the site of the memorial to Abraham Lincoln and do that, that's disappointing," he said.  
The National Mall and Memorial Parks monument preservation crew is already working on removing the graffiti, "using a mild, gel-type architectural paint stripper that is safe for use on historic stone," the press release states.
The vandalism comes as the nation reels in the wake of the protest turned violent in Charlottesville, Va., on Saturday that left one person dead and 19 others wounded.
For more, watch the NBC Washington report below.
Thank you for supporting MRCTV! As a tax-deductible, charitable organization, we rely on the support of our readers to keep us running! Keep MRCTV going with your gift here!