The Libertarian Party has issued an apology for portraying North Korea as a shining "beacon of freedom" compared to the allegedly oppressive United States.
In a now-deleted tweet, the Libertarian Party shared a Business Insider article about how North Korea has been dubbed a "'weed smoker's paradise.'" In their assessment of the article, the Libertarian Party said the totalitarian dictatorship can be looked to "for an example of more freedom than the United States":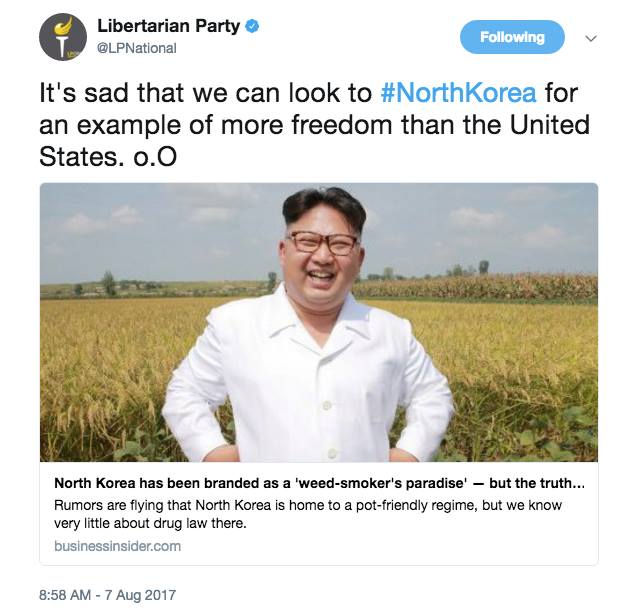 While the Libertarian Party accurately read the headline of the article, the article itself notes that North Korea may not be as pot-friendly as the Libertarian Party may like:
In January, the AP's Eric Talmadge provides some of the most conclusive evidence yet that marijuana is illegal in North Korea.

Torkel Stiernlof, a Swedish diplomat living in North Korea, told the AP that marijuana is a controlled substance in the same category as cocaine and heroin. He rejected the idea that government looks the other way when it comes to drug use, as some online stories suggest.

"There should be no doubt that drugs, including marijuana, are illegal here," Stiernlof said. "One can't buy it legally and it would be a criminal offense to smoke it."
In fact, the lack of knowledge surrounding the legal enforcement of marijuana laws in North Korea is an example of why North Korea is an oppressive, repressive regime that should not be heralded as an example of freedom. Since Business Insider relies partially on anonymous internet reports to discuss whether North Korea is actually a safe-haven for pot smokers, it shows that the government cracks down on the free exchange of information beyond the borders and the bureaucrats.
It should also be noted that North Korea is famous for the hero-worship cult of personality surrounding its Dear Leader and that the country routinely punishes any dissent of any kind with work camps. These are, obviously, not libertarian principles.
After outrage over the tweet, the Libertarian Party reportedly issued an apology nearly a week later. The apology, like the original tweet, appears to have been deleted:
This is far from the Libertarian Party's first time making a social media faux pas. In April, the official Facebook account for the Libertarian Party praised Satanism as an example of libertarian principles.
The Libertarian Party is also famous for allowing a man to strip on stage during a live broadcast of its 2016 National Convention and for musing about whether it should be legal to sell heroin to children during its 2016 presidential candidate debate.
Thank you for supporting MRCTV! As a tax-deductible, charitable organization, we rely on the support of our readers to keep us running! Keep MRCTV going with your gift here!