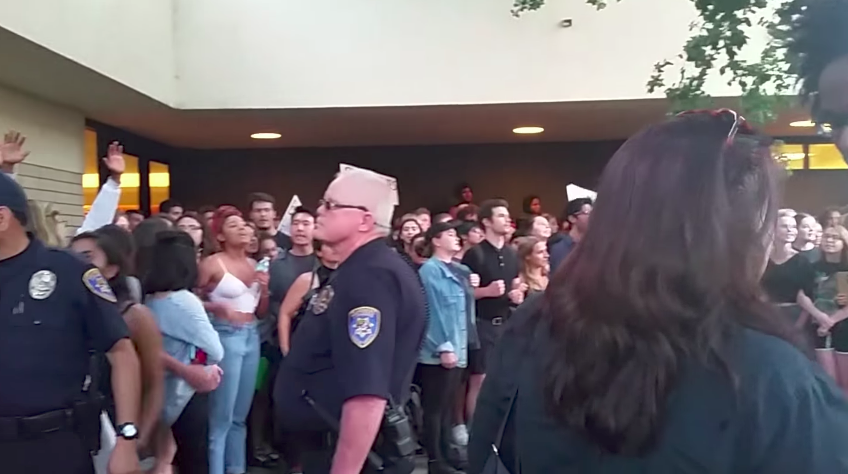 A liberal arts college that actually protects the First Amendment? You don't say.
Claremont McKenna College, a small liberal arts school east of Los Angeles, Calif., is taking a stand with its latest disciplinary actions against seven students who led a 170-person "human blockade" on a speech by a conservative speaker in April.
Campus Reform reports,
In April, a group of roughly 170 students of Claremont McKenna, as well as outside participants, led a successful blockade of the Athenaeum and the Kravis Center, preventing audience members from listening to a speech by conservative commentator Heather Mac Donald.

The school announced Monday that it had imposed sanctions on seven of those students following the completion of a conduct investigation that had previously been delayed to avoid interfering with Commencement, noting that it had charged 10 students disciplinary code violations, but that three were cleared of wrongdoing.

Three of the students received one-year suspensions for their actions, two are suspended for one semester, and two others have been placed on "conduct probation." In addition, CMC says it has provided administrators at other Claremont Colleges with evidence implicating other students, and is asking them to initiate their own internal investigations.
In a statement, Claremont McKenna College said that the blockade "breached institutional values of freedom of expression and assembly."
The college added that it "learned important lessons" from the incident, including its need to "invite the broadest array of speakers on the most pressing issues of the day."
"Our community must protect the right to learn from others, especially those with whom we strongly disagree," the statement reads. 
Students who participated in the April 6 blockade justified their actions by saying that Mac Donald, author and an outspoken critic of the Black Lives Matter movement, is "representative of the growing normalization of white supremacist fascist ideologies" and that "fascism is masked as 'free speech.'" 
"Her blatant anti-blackness, islamophobia, and anti-immigrant views are rapidly becoming adopted by the American public, further entrenching marginalized communicates in structural oppression in this neoliberal era," the anonymous group wrote on the day of the protest. "We cannot remain passive while her coded language actively oppresses our communities."
"The way fascism is masked as 'free speech' is not any 'normal' exercise of constitutional power," the statement goes on. "White supremacists such as Heather Mac Donald claim protection from free speech as an exercise of constitutional rights forgetting that the Constitution was created by slave owners."
The group broke down the speech's provisional security fencing and established a human blockade outside of the auditorium, barricading the exits while chanting phrases such as "shut it down" and "black lives ain't matter here." 
The protesters created "unsafe conditions for people both inside and outside" the building, according to the college's FAQ sheet on the incident.
The college decided not to "physically engage" with the protesters because of the "volatility of the situation." 
Claremont McKenna College defended its decision to discipline its students involved by endorsing the University of Chicago's Principles of Free Speech that, "[T]o benefit fully from the free exchange of challenging ideas, we must ensure that all people with different viewpoints, experiences, and analyses are included in our conversations…. We reject exclusion and ad hominem attacks as barriers to learning. All of us — students, faculty and staff — must commit to high standards of civility, respect, and appreciation for differences."
Thank you for supporting MRCTV! As a tax-deductible, charitable organization, we rely on the support of our readers to keep us running! Keep MRCTV going with your gift here!