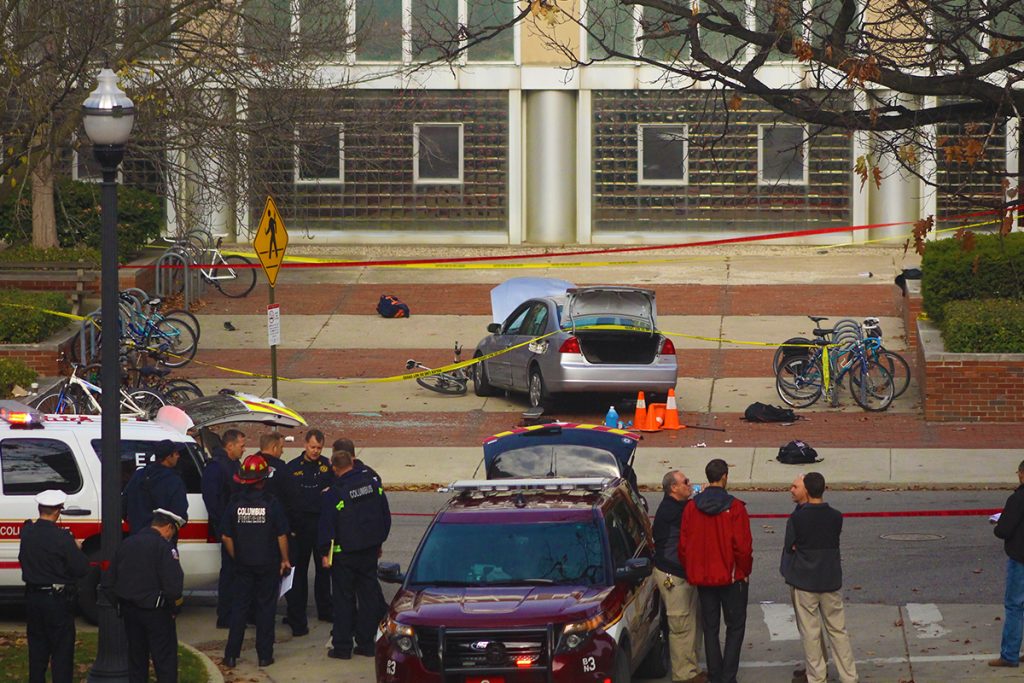 According to local reports, the man who attacked a crowd of people on the Ohio State University campus Monday morning has been identified as an 18-year-old Somali refugee who'd been allowed into the United States and even granted legal permanent resident status, all before deciding to hack people up with a knife.
Abdul Artan, who was a student at the university, reportedly plowed into a group of unsuspecting pedestrians before getting out of the car and stabbing people with what's been described as a large butcher knife. Within about three minutes, Artan managed to wound at least 9 people – one of whom ended up in critical condition – before being shot and killed by a police officer.
Authorities say they haven't identified Artan's purpose behind the attack, but that they aren't ruling out terrorism as a motive.
Sadly, because this world simply isn't a liberal utopia filled with endless cultural inclusivity and the peaceful coexistence of all faiths, this most recent case out of Ohio shines a glaring spotlight on the United States' current refugee system, and the dangers that it continually poses to the American people.
In FY2016, the United States allowed more than 8,000 Somali refugees into the country, according to the Center for Immigration Studies. In fact, CIS notes that more than 50,000 Somalis have been admitted since 2009. President Obama has pledged to usher in another 110,000 global refugees in the current fiscal year, up 25,000 from last year's cap of 85,000. And with this increase will come larger masses from Somalia, Syria and other nations currently plagued with the cancer of radical Islamic ideology.
And, lest I be immediately castigated as a racist judging mass numbers of people by the actions of a "lone wolf," observe:
A 22-year-old Somali man stabbed nine people in a Minnesota mall back in September in what local authorities called a "potential act of terrorism." The man, who was eventually put down by an armed off-duty police officer, reportedly referenced Allah and asked at least one person if they were Muslim before proceeding to attack mall-goers with a machete. ISIS later took responsibility for the attack.
Last February, 30-year-old Mohamed Barry, a Somali man who'd come to the United States in 2000, wounded four people with a machete outside a Mediterranean restaurant. Ironically, the incident also took place in Columbus, Ohio, only about five miles from the OSU campus in a community that boasts a Somali population of about 40,000. Shockingly, Barry had reportedly been on the FBI's radar for four years prior to the attack for making radical comments online.
And, while perhaps the most worrisome, outward violence here at home isn't the only problem that's been recently posed by some Somali immigrants. Earlier this month, U.S. Immigration and Customs Enforcement busted a Somali cab driver in Orange County, Calif., for funneling money to the terrorist organization Al-Shabaab, a group associated with countless bombings and murders overseas.
Back in July, CIA Director John Brennan told members of Congress that ISIS is likely using the United States' welcoming immigration system as a means to launch attacks on the West, explaining, "The group is probably exploring a variety of means for infiltrating operatives into the West, including in refugee flows, smuggling routes and legitimate methods of travel."
"Furthermore, as we have seen in Orlando, San Bernardino and elsewhere, ISIL is attempting to inspire attacks by sympathizers who have no direct links to the group," Brennan added, referencing the group's call for those living in Western nations to launch attacks in their own backyards.
While the number of foreign-born persons, both legal immigrants and illegal aliens, who commit heinous crimes may represent only a portion of the total, the question remains, why import more? Does the risk of admitting a future terrorist into our borders outweigh the potential for helping those who are innocent? And while it's already difficult to vet someone's past, how can you possibly vet their future? 
These are loaded questions, and ones that have no easy, uncomplicated answers. But in weighing the risks vs. benefits of our more than generous immigration policy, consider this: the United States admitted roughly 80,000 refugees between Oct. 1, 2000 and Sept. 30, 2001. Another 1 million immigrants were admitted that year. More than 1 million immigrants were granted legal permanent resident status
And it only took 19 foreign-born terrorists to bring down two 110-story towers, blast a hole in the Pentagon, bury a plane in a Pennsylvania field, and ultimately kill nearly 3,000 people.