For many people, the name Stan Lee is synonymous with their childhood. Those people might remember the first time they opened a "Spider-man," "Iron Man" or "Thor" comic growing up. All of those people have Marvel creator, writer, editor and publisher of Marvel Comics Stan Lee to thank for those memories.
Lee passed away died early Monday morning at Cedars-Sinai Medical Center in Los Angeles, according to The Hollywood Reporter. He was 95.
Lee was known the world over, not only for the characters he had a hand in creating, but for his forever young personality that fans came to know and love throughout his later years.
The abundance of comic book heroes and villains that Lee created are a who's who of characters that have inhabited the Marvel Comics universe for years.
Here's a sample of the characters that Lee either created or co-created:
Ant-Man
Black Panther
Black Widow
Daredevil
Doctor Strange
Fantastic Four
The Incredible Hulk
Iron Man
Spider-Man
Thor
X-Men before Wolverine became part of the group
There are many more characters that Lee created or helped create, but that list is in the hundreds, so I'll keep this list confined to most of the big name characters.
Twitter is beginning to posthumously thank Lee for his many contributions to the fabric of American society: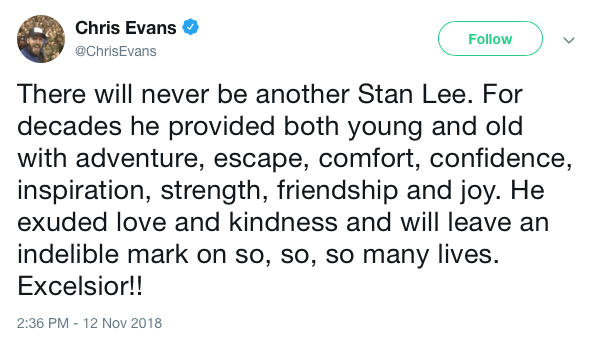 In his later years, Lee made appearances on TV shows and movies that permanently engrained him into the pop-culture consciousness. His cameos include many of the Marvel movies that people have enjoyed over the last 15 years or so. Lee also made an appearance on more than one occasion on AMC's "Comic Book Men."
Rest in peace, Mr. Lee. Excelsior!