Na na na na. Na na na na. Hey, hey, hey…Goodbye! I was trying to decide between those lyrics and Queen's "Another One Bites the Dust" to describe this latest Leftist failure.
The anti-right-of-center "Murphy Brown" won't be returning to CBS after just 13 episodes. Both CBS and show creator Diane English claim that the show was only supposed to run for 13 episodes, as per the show's order.
English even took the time to tweet about how "Murphy Brown" was "NOT CANCELLED!!!!!" Sorry for yelling. It wasn't me. I swear!
Here's English's Tweet: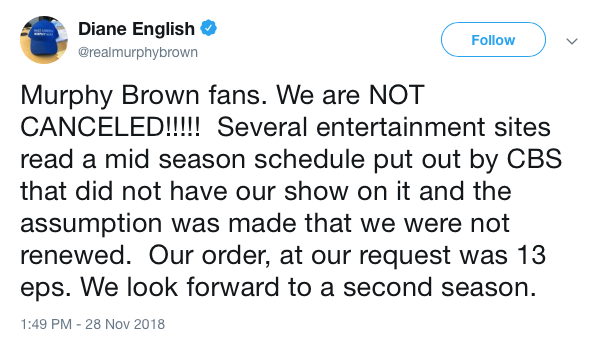 That's all well and good, but if the show was doing really well, you bet your sweet bippy CBS would've thrown a boatload of money at the Candice Bergen-led show. But, that ratings weren't all that spectacular for a show that jumped on the Hollywood TV re-boot trend.
According to Nielsen television ratings tracking website tvseriesfinale.com, the November 22nd episode of "Murphy Brown" garnered a mere 4.752 million viewers, down a little over 20 percent from the previous week's episode. One could say that the latest episode was hampered in the ratings because it aired on Thanksgiving and also aired at the same time as the NFL matchup between the Atlanta Falcons and New Orleans Saints.
However, those two factors might not be that great of an indicator as to why the show plummeted from the week before, considering that "Murphy Brown" was also beaten on the night by two re-runs of "The Big Bang Theory." The Thanksgiving episode of "Murphy Brown" was a new episode, so there's that.
English might "looking forward to a second season," but who knows when or even if that will ever occur.
"Murphy Brown" has four more new episodes left to air as part of the 13-episode order, including one this evening.