In a wild swing from about two minutes ago, when Confederate statues – and, come the think of it, pretty much every other statue, regardless of its affiliation – were fair game for destruction, leftists have once again decided to care about history but slamming the Trump administration's redo of the Rose Garden, which included transplanting several trees planted back in the '60s during the Kennedy years.
Former New York Times' reporter Kurt Eichenwald slammed First Lady Melania Trump, saying he's "furious" that she's "a foreigner" who is "wreck[ing] our history," claiming that "someone who has only been a citizen for less than 1/3 of her life" has no right to redo the White House Rose Garden. 
"It is a destruction of our history, something no other First Lady would have had the gall to do," Eichenwald posted Saturday in a now-deleted tweet. "This is the first time I have been furious that @FLOTUS is a foreigner. She has no right to wreck our history."
Eichenwald later apologized for the blatantly bigoted, anti-immigrant comment and deleted the post. Unfortunately for him, the internet is forever.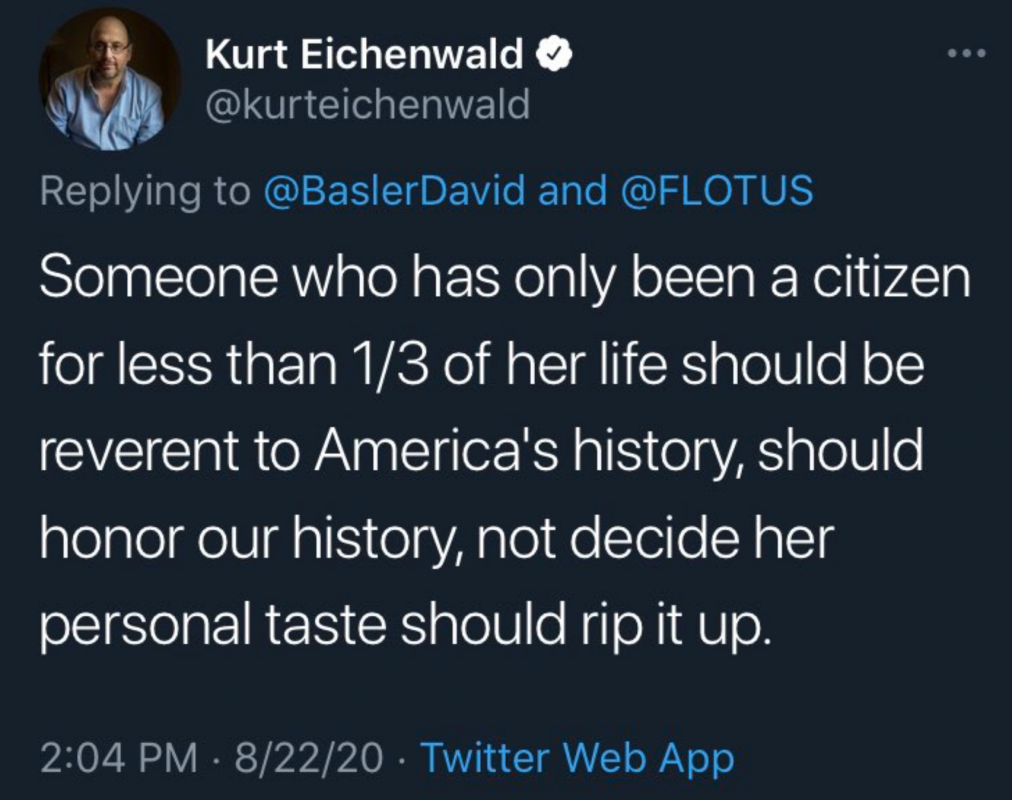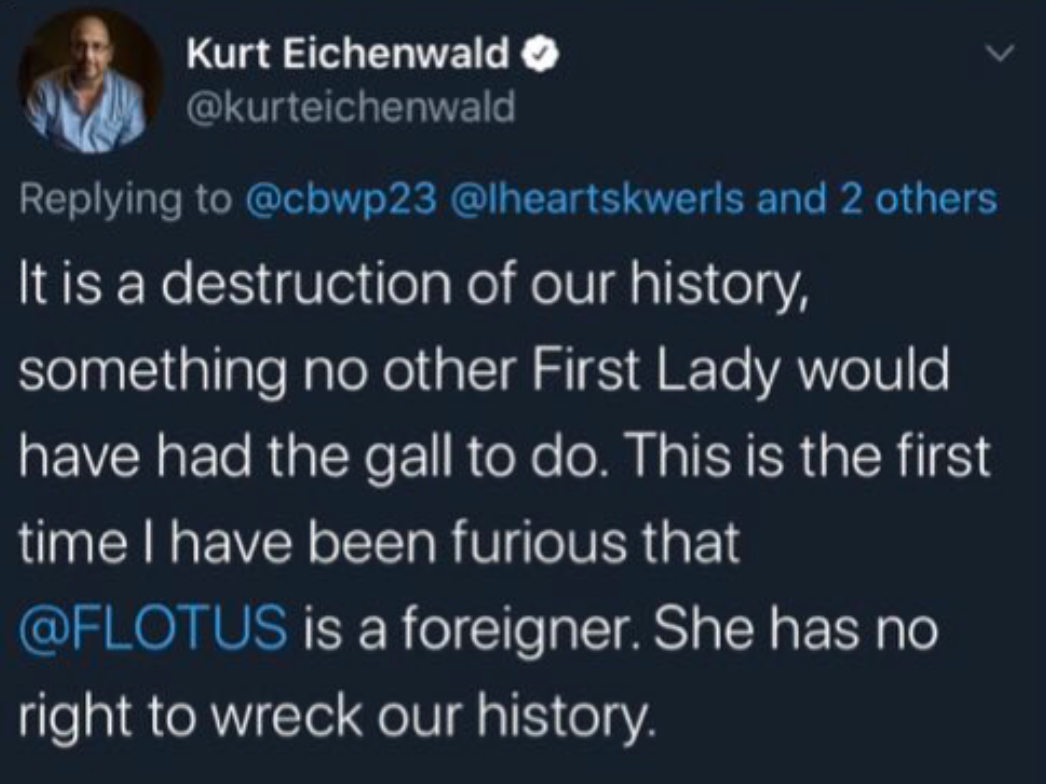 But while his might be one of the more hostile, the First Lady has come under rapid fire from leftists who accused her of "ruining" Jackie Kennedy's Rose Garden design – because for some reason, everything that was ever touched by Jackie Kennedy has inexplicably become some sort of Holy Relic – cutting down the trees the former First Lady had planted. Except that the trees weren't "cut down" at all – they were carefully uprooted and will be transferred to another area on the White House grounds for replanting.
In a particularly deceptive tweet, author and New York Times contributor Jennifer Wright posted a side-by-side comparison of the garden supposedly before and after Melanie Trump's changes, accusing the First Lady of turning the "colorful, happy Rose Garden" into a space "entirely devoid of joy."
 
Here is the colorful, happy Rose Garden under Obama, and here is Melania's unveiling of the new garden, entirely devoid of color or joy. pic.twitter.com/j9cNXC63tC

— Jennifer Wright (@JenAshleyWright) August 22, 2020

Except that, as the Washington Examiner notes, the "before" photo was taken in April of 2008, more than a decade ago during the Bush administration and when the flowers were in full spring bloom, while the "after" photo was taken just after the recent garden re-do, in the heat of August when the garden's tulips aren't blooming.
On top of that, leftists have conveniently forgotten to mention that in their garden reconfiguring, the Trump administration also added elements to make the space more accessible to handicapped individuals, opening the famed area up to even more of the public.