Sharia Law advocate, radical liberal and feminist Women's March leader Linda Sarsour took to Twitter Tuesday to encourage her sheeple to donate to a left-wing social justice organization disguised as a Hurricane Harvey relief fund.

That sounds like it's on the up and up, right? 
Not if you're Sarsour. She and several other Socialist organizations are helping rally support for an organization called the Texas Organizing Project (TOP).
Here's TOP's Facebook post asking for donations: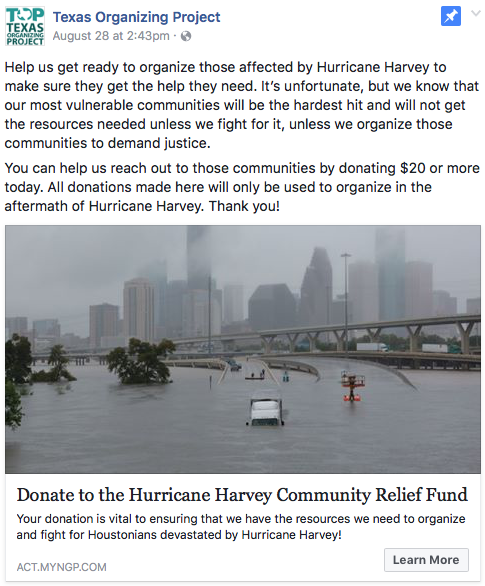 Except there's just one problem: all the money donated to TOP isn't going to assist disaster victims with things like clean water or shelter. Instead, it will prop up the group's social justice crusade to fight alleged inequality among low-income and minority families. According to the donation website:
Your donation is vital to ensuring that we have the resources we need to organize and fight for Texans devastated by Hurricane Harvey!

Together we will organize and advocate for our devastated communities, shining a spotlight on inequalities that emerge in the restoration of lives, livelihoods, and homes, amplifying the needs of hard-hit communities, and providing legal assistance for residents wrongfully denied government support.
Even people on Twitter are calling out this "donation drive":
MoveOn.org, an infamous left-wing activist group, also sent out an email asking for donations for Hurricane Harvey victims -- donations that will be sent to the same Texas Organizing Project.
Here's the email: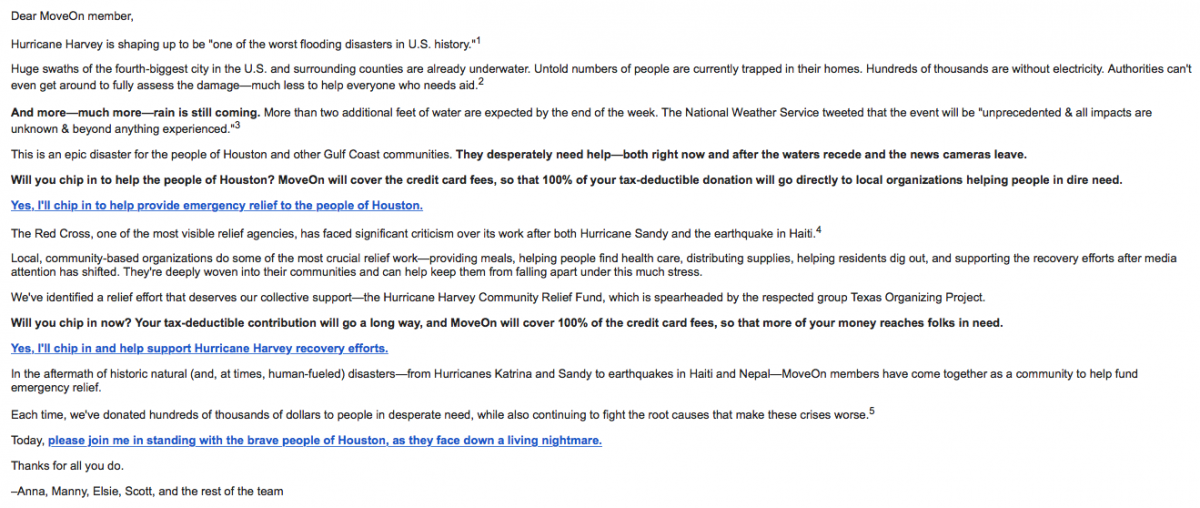 Other left-wing organizations attempting to scam people out of their earnestly-donated money include:
Faith in Texas - "Multi-racial, faith movement for social justice."
Service Employees International Union (SEIU) - Organizes and provides protests and protesters. 
Communications Workers of America (CWA) - Telecommunications union that plays a part in "community-based organizing and mobilization." Also a subsidiary of the AFL-CIO.
It looks like left-wingers like Sarsour and TOP are much more interested in exploiting flood victims for their own liberal causes than actually helping suffering Americans. If you really want to help those in need, you can donate to the American Red Cross.