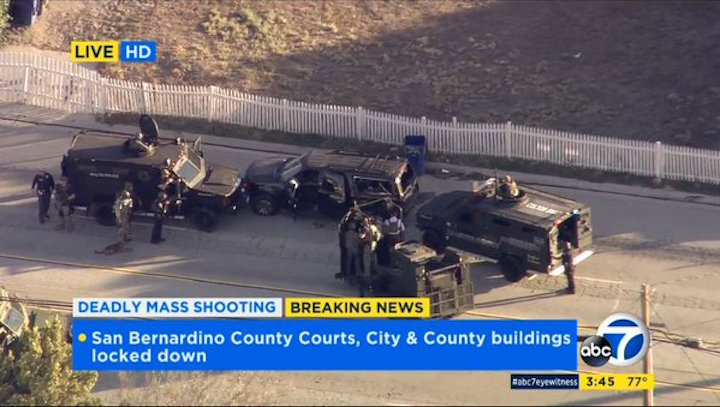 Law enforcement officials in San Bernardino, Calif., now believe that Syed Rizwan Farook, the Muslim man who, along with his wife, Tashfeen Malik, killed 14 people and wounded another twenty-one Wednesday morning may have been a radicalized Muslim. Farook was in touch by phone and via social media with more than one international terrorism subject, reported CNN citing investigators.
CNN is also reporting that on the day of the attack, Tashfeen Malik pledged allegance to ISIS via Facebook:
As the San Bernardino attack was happening, investigators believe the female shooter, Tashfeen Malik, posted on Facebook, pledging allegiance to ISIS leader Abu Bakr al-Baghdadi, three U.S. officials familiar with the investigation told CNN.

The posting was by Malik made on an account with a different name, according to one U.S. official. The officials did not explain how they knew Malik made the post.
Additionally, the FBI suspects the couple may have learned bomb-making from an online magazine published by al-Qaeda. 
Law enforcement officials are not ready to commit to whether Farook's radicalization, contacts with foreign terrorist groups or something totally non-terrorism related motivated the massacre. From a Fox13 report:
Given the amount of ammunition and bombs the pair had, many asked if they may have been planning something different but instead impulsively carried out Wednesday's shooting.

"If you look at the amount of obvious pre-planning that went in, the amount of armaments (they) had, the weapons and the ammunition, there was obviously a mission here," David Bowdich, assistant director for the FBI's Los Angeles field office, said. "We know that. We do not know why. We don't know if this was the intended target or if there was something that triggered him to do this immediately. We just don't know. Again, that's going to take time for us to get to that answer."
So far, investigators have reported they have found a virtual armory in the couple's home. FBI agents have discovered nearly 5,000 rounds of ammunition, a dozen pipe bombs and hundreds of tools for making improvised explosive devices. That is on top of the 1,600 rounds of ammunition police found on or around the terrorists as they examined their car after the shootout.
According to FBI Assistant Director David Bowditch, Farook met his Pakistan-born wife while making the Haj pilgrimage to Saudi Arabia in 2013. They got engaged and he brought her to the United States on a fiancée visa in 2014. The assistant director also mentioned that Farook had been back to Pakistan in recent years, but would not elaborate beyond that.
Fox News' Chief Intelligence Correspondent Catherine Herridge reported that the FBI suspects Farook and his wife might have learned how to make bombs from Inspire, a slick, well-produced online magazine published by al Qaeda. Inspire regularly publishes bomb-making lessons, like this example below from a 2014 issue: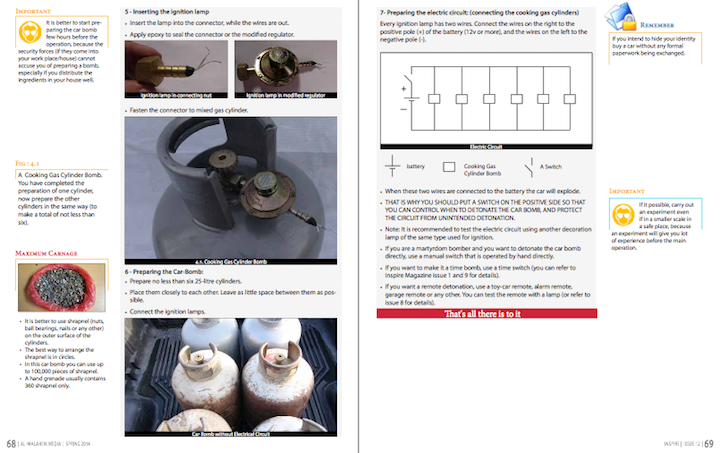 According to Herridge, ISIS has taken the bomb-making-at-home instructions from Inspire and circulated them to their followers. FBI officials suggest that some of the bombs made by the Farooks used remote controls like the ones outlined in the magazine's editorial. Herridge explained:
It's my understanding, that somehow it was three pipe bombs attached together, somehow attached to this remote control car and was designed so that the remote control device would somehow trigger or set that device off. We don't know if they attempted to do that and it failed, or what the story is.

The police are also confirming 12 pipe bombs and, quote, hundreds of tools to build IEDs. And the use of these remote-controlled toy parts in kind of a detonation mechanism is what we saw in the Boston marathon bombing where the two Tsarnaev brothers used the "Inspire" magazine.
Herridge's full report can be seen on the video below:
MRCTV Reader,
The liberal media are terrified of the truth, especially when it leads to uncomfortable questions about their own leftist worldview.
MRCTV is the multimedia division of MRC featuring original content and aggregated videos of the news, people, and events conservatives care about.
MRCTV relies on the support of our loyal readers (and video viewers) to keep providing the news and commentary that matter to the American people, not just stories that prop up the liberal agenda.
Make a donation today. Just $15 a month would make a tremendous impact and enable us to keeping shining the light where the liberal media are afraid to tread.
— The MRCTV Team
DONATE
Connect
Sign up for our MRCTV newsletter to receive the latest news.
Sponsored Links