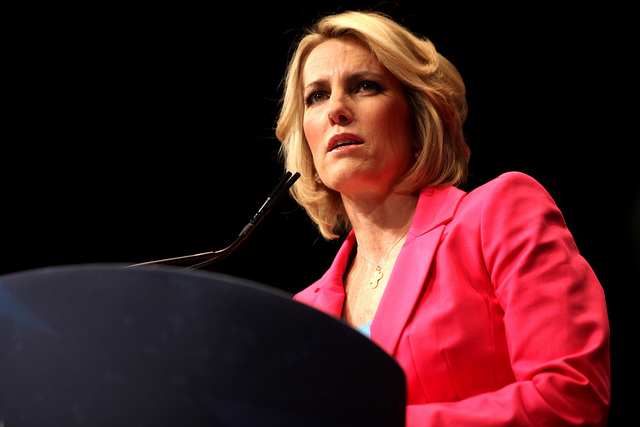 On Monday, American radio talk show host Laura Ingraham blasted left-wing filmmaker Michael Moore's criticism of American Sniper as a "moronic, desperate last gasp from a windbag."
Last week, Moore tweeted out this comment on Clint Eastwood's box office record-setting film, based on the life of Navy SEAL sniper and U.S. war hero Chris Kyle:
He quickly received a great deal of backlash, to put it lightly.
Ingraham said that Moore, who has become largely "irrelevant," did not deserve the attention, but that his comment demanded a response—and she sure handed him one:
"The idea that people who are celebrating Chris Kyle are part of the blood thirsty shoot-em-up military industrial complex culture that we live in is moronic, idiotic, and frankly a desperate last gasp from a windbag like Michael Moore."
"To think that we as a people at this point in time," Ingraham continued, "when so many Americans feel like the American dream is lost for them—to think frankly that we even have to be for one moment taken off of our feeling of goodwill and gratitude because of some stupid comments like his… It's just annoying."
On "The Laura Ingraham Show," she went on to say,
"[Moore] has a right to say whatever he says. Of course he does. But we have a right to call him what he is."
Ingraham also criticized Canadian actor Seth Rogen, who likened American Sniper to Nazi propaganda. 
Since Twitter blew up in anger in response to his comment, Moore felt he needed to write a Facebook post clarifying his tweet: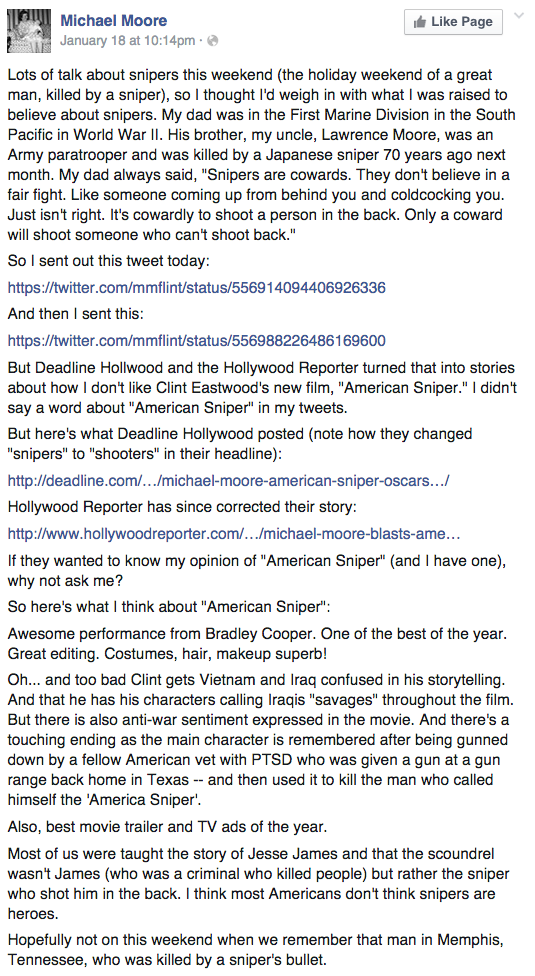 Moore clarified that his original tweet was not about the movie, yet he went on to tweet out a number of comments that would suggest otherwise. Nonetheless, he stood by his claim that snipers are "cowards." 
The filmmaker reasoned that "most Americans don't think snipers are heroes," citing the assassination of Martin Luther King, Jr. as evidence to back up his claim.
Moore went on to commend Clint Eastwood and give actor Bradley Cooper a rave review for his performance as Chris Kyle.
If that's not backpedaling, then I'm not sure what is.