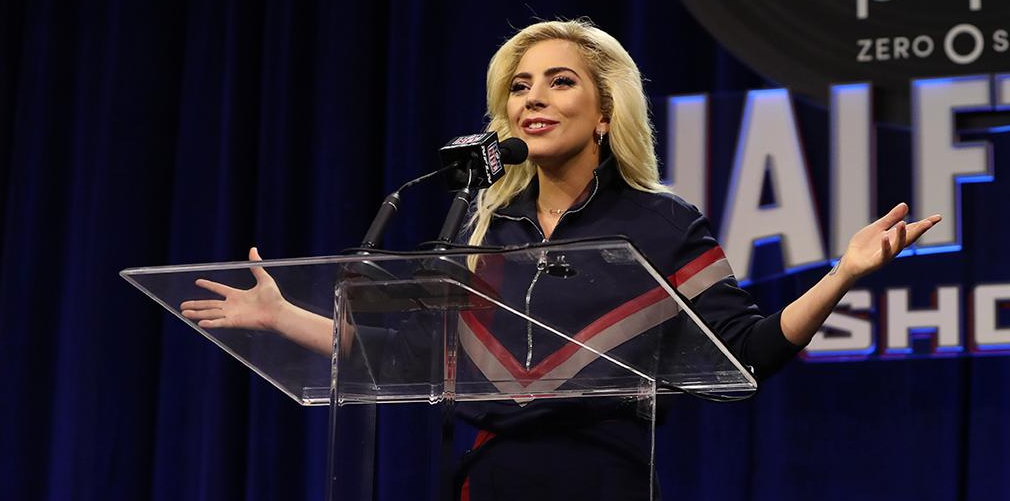 (Image via Twitter)
At a press conference in Houston on Thursday, pop star Lady Gaga talked her upcoming gig at the Super Bowl LI halftime show, saying she'll make the same type of political statments she's always made - and create a "moment" viewers "will never forget."
Amid rumors that the 30-year-old singer will use the platform to share her personal – and critical – opinion of President Donald Trump, Lady Gaga said that the only statements she would be making are "the ones I've been consistently making throughout my career." 
"The only statements that I will be making at the halftime show are the ones that I've been consistently making throughout my career," said Gaga. "I believe in a passion for inclusion. I believe in the spirit of equality and the spirit of this country as one of love and compassion and kindness, so my performance will uphold those philosophies." 
"This performance is for everyone," she said. "I want to, more than anything, create a moment that everyone that's watching will never forget."
She wouldn't give any hints about what songs, costumes, or stunts her performance will feature, other than how the performance will be "tremendously athletic" and how her friend and legendary American singer Tony Bennett, 90, will be joining her on the world's biggest stage.
"I'm not gonna tell you what I'm gonna do," said Lady Gaga. "You're gonna have to wait [and see]."
She also declined to say who she thinks is going to win the big game, offering instead to "write it down, and put it in my shoe [and] I'll let you know."
"After the halftime show, I'll reveal my pick. How about that?" she asked. 
Lady Gaga did promise that her infamous meat dress would not be making a second debut.  
"I will tell you that there's not gonna be any meat dress there," she said. "So don't wait for that."
Thank goodness.
Country music star Luke Bryan will sing the national anthem before the game.
There are rumors of an appearance during halftime by Houston native Beyoncé, which Lady Gaga would neither confirm nor deny.  
The New England Patriots and the Atlanta Falcons go head to head on Sunday at NRG Stadium in Houston at 6:30 P.M. EST.
Thank you for supporting MRCTV! As a tax-deductible, charitable organization, we rely on the support of our readers to keep us running! Keep MRCTV going with your gift here!