The sheriff of Los Angeles County has basically told NBA activist LeBron James to put his money where his mouth is when it comes to injustices that James always professes to want to combat.
Los Angeles County Sheriff Alex Villanueva told the John Phillips Show on KABC Radio that he's challenging James to match the reward money that the county and individuals have put up for information leading to the arrest of the gunman who cowardly ambushed and shot two L.A. deputies last Saturday.
L.A. County put up $100,000 in reward money, and two "private donors" added an additional $75,000 for a total reward of $175,000.
Villaneuva said the following, directed towards James:
This challenge is to LeBron James. I want you to match that and double that reward, because I know you care about law enforcement. You expressed a very interesting statement about your perspective on race relations and on officer-involved shootings and the impact that it has on the African-American community, and I appreciate that. But likewise, we need to appreciate that respect for life goes across professions, across races, creeds, and I'd like to see LeBron James step up to the plate and double that.
James has been more than outspoken any time a black man has been shot by police, justified or not.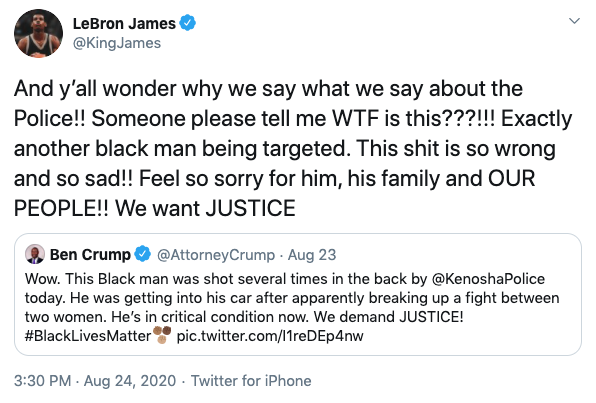 Villanueva seems to be skeptical that James will respond.
"Let's see what he does," Villanueva said. "I'll be very curious to see what his response is, if any. And we gotta get people to start thinking the big picture. Words have consequences, and we need to tone down the rhetoric."
It seems like Villanueva gets it. It'll be interesting to see if James ever does as well. As of this writing, James hasn't responded to the challenge.
H/T: CBS News