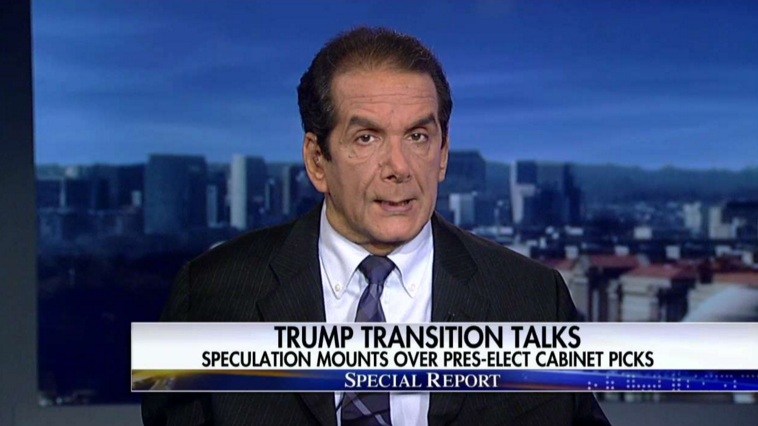 (Image via Twitter)
Fox News commentator and syndicated author Charles Krauthammer discussed on "Special Report" Tuesday night Donald Trump's cabinet picks and what they say about the president-elect.   
A very vocal critic of Trump during the primary and general campaigns, Krauthammer offered an unlikely compliment:
"All you care about is results, and I see Donald Trump being decisive and very specific," he said.
He argued that Trump's cabinet picks – such as Sen. Jeff Sessions (R-Ala.) for attorney general and Rep. Tom Price (R-Ga.) for secretary of the Department of Health and Human Services (HHS) – have so far demonstrated that "he cares about results" and "wants to get stuff done."  
"Trump wants to get stuff done," said Krauthammer. "He doesn't care if it creates an argument. He cares about results."
He continued, "Sessions, you want him as a guy who's gonna go after immigration seriously. Price is gonna change Obamacare – he's gonna abolish and replace it. And there's another element in that appointment: Price is really close to [House Speaker] Paul Ryan."  
"This is a signal that Trump is prepared to work very closely on domestic issues with a Ryan House and that they actually want to go through an agenda," Krauthammer noted. "That's extremely encouraging."
Do you agree? 
Check out the rest of his remarks below.