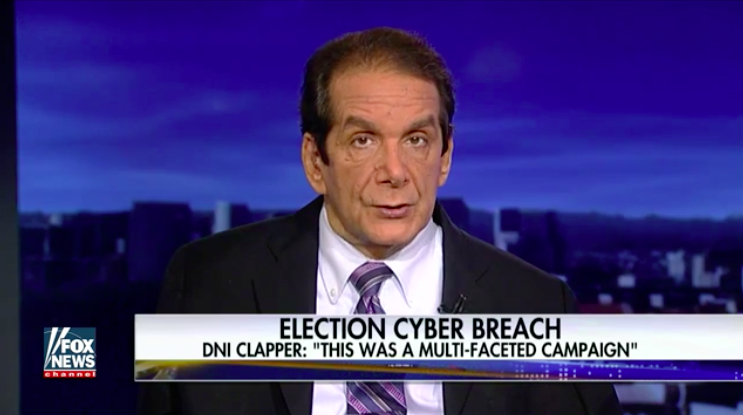 (Image via Screenshot)
Syndicated author and Fox News contributor Charles Krauthammer on Thursday night's "Special Report" said it was a mistake for President-elect Donald Trump to quote WikiLeaks founder Julian Assange regarding Russia's alleged involvement in the U.S. election.
Despite claims by the U.S. intelligence community, Trump in a series of tweets on Wednesday and Thursday seemed to suggest that he agrees with Assange that Russia did not meddle in the presidential election.
"Russians did not give him the info!" Trump tweeted on Wednesday, referring to the DNC emails released by WikiLeaks during the presidential campaign.
He also quoted Assange on how the U.S. media are "very dishonest."
"More dishonest than anyone knows," Trump tweeted Thursday.
After facing a firestorm of criticism for siding with the WikiLeaks founder, whom is currently seeking refuge in Ecuador's embassy in London, Trump tweeted that just because he quotes Assange doesn't mean he agrees with him.
"I simply state what he states, it is for the people to make up their own minds as to the truth," wrote Trump.
Krauthammer argued that Trump deciding to quote Assange, who "clearly is an enemy of the United States," was a "big mistake."
"The big mistake that Trump made was to quote Assange," said Krauthammer. "It is a mistake to quote somebody who clearly is an enemy of the United States, who we know has endangered the lives of people, particularly in Afghanistan and abroad who work with us, and risked their lives. Their lives are now at risk as a result of what Assange has done."
"I'm not sure bringing him in is a good idea," he went on. "There's no question that the Obama administration has trumped up this issue ... as a way to introduce some doubt in the minds of the electorate about the legitimacy of a Trump victory. That may be true, but nonetheless, I think it's a mistake for Trump to wade into this."
Krauthammer added that Trump should "simply stay out, let it play out."
"I don't think in the end it really harms Trump, but the attention he's given it has put the focus on it to the extent that people are going to ask, 'Why is he so defensive about this?'"
Do you agree? Listen to the rest of his remarks below.