Former NBA player Kobe Bryant tells "The Undefeated" that if he were still playing, we would be taking a knee during the national anthem.
"I would have participated in it for sure," Bryant says when asked about the protests that started in the NFL with Colin Kaepernick.
Kobe Bryant on national anthem protests. #DearBlackAthlete pic.twitter.com/zHNrAuTRW3

— The Undefeated (@TheUndefeated) February 12, 2018
"I'm sure I would have gotten some flak for it. That's fine. I think that Colin's message was a very simple one. It was police brutality needs to stop. We need to take a look at that," Bryant said.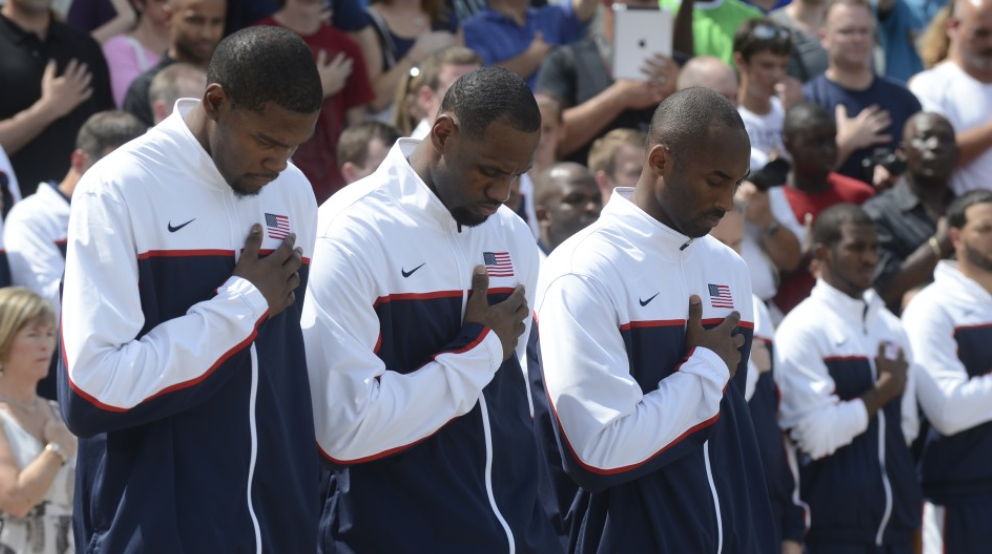 (Not taking a knee - Kevin Durant, LeBron James and Kobe Bryant render honors at the of the Tomb of the Unknown Solider in Arlington National Cemetery, July 15, 2012. DOD photo)
"And by the way, from my point of view, that's what the flag represents as well. The ability to speak, the ability to voice your opinion, and everybody is entitled to that. So everybody getting up in arms about it, they're certainly in their right to do that, as we're certainly in our right to protest — peacefully at that," Bryant later added.
Of course, Bryant isn't playing - so he will be taking a protest knee on the court about as often as he scores on this issue. Zero.
MRCTV Reader,
The liberal media are terrified of the truth, especially when it leads to uncomfortable questions about their own leftist worldview.
MRCTV is the multimedia division of MRC featuring original content and aggregated videos of the news, people, and events conservatives care about.
MRCTV relies on the support of our loyal readers (and video viewers) to keep providing the news and commentary that matter to the American people, not just stories that prop up the liberal agenda.
Make a donation today. Just $15 a month would make a tremendous impact and enable us to keeping shining the light where the liberal media are afraid to tread.
— The MRCTV Team
DONATE
Connect
Sign up for our MRCTV newsletter to receive the latest news.
Sponsored Links