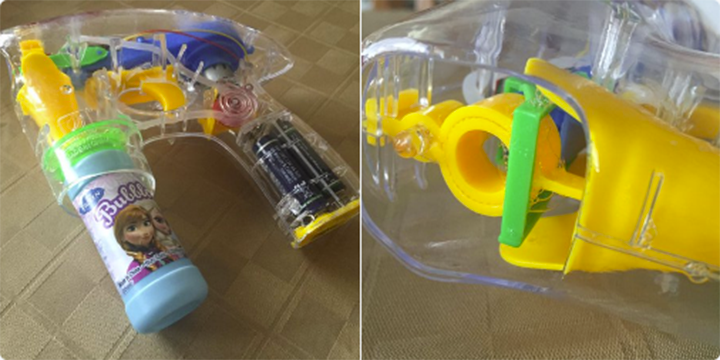 A five-year-old girl was suspended from her kindergarten class for a day after bringing a plastic bubble-blowing gun into her classroom.
The girl's mother, who wished to remain unidentified for privacy concerns, was unaware of her daughter bringing the toy into her school Monday morning. 
"I apologized right away and said that I am so sorry she did that," said the girl's mother. "I appreciate that they're trying to keep our kids safe, I really do. But there needs to be some common sense. It blows bubbles."
The young girl took the bubble gun, complete with a "Frozen"-themed bubble pack, out of her backpack and played with it in the hallways during an indoor recess.
The school immediately called the mother and cited a zero tolerance policy with anything remotely shaped like a weapon. We've seen this before with the boy that was disciplined because he bit a toaster pastry into the shape of a gun.
"It's a shame because it's the end of the school year, and it's kind of ending on a bad note now," she said. "And she didn't deserve that. She didn't deserve a punishment like that."
The girl asked to stay home and helped her mother clean the house instead of going to school that day.
The school district issued a statement defending the decision, saying it was in line with standard policy.
"This has involved similar situations where students have brought items such as Nerf guns to school and also received one-day suspensions," the district's statement read. "The bringing of weapons, real or facsimile, to our schools by students can not only create a potential safety concern but also cause a distraction for our students in the learning process."