Robert James Ritchie has announced his plans to run for U.S. Senate in the state of Michigan. In case you didn't know, Robert James Ritchie is the birth name for musical artist Kid Rock.
The news came out after people began questioning Rock after a website, KidRockForSenate.com, was discovered by friends and fans alike.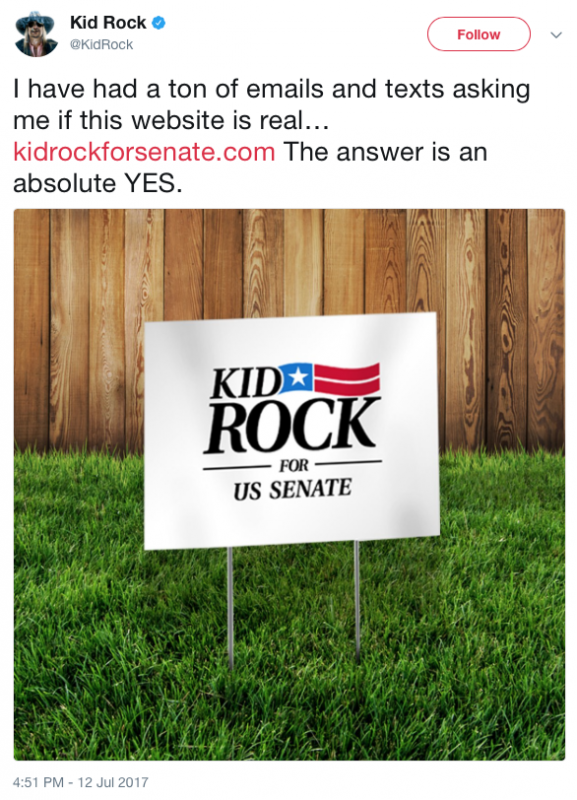 According to Fox News:
Republicans in Michigan have reportedly been considering Rock to run on the GOP ticket in 2018 to challenge incumbent Democrat Debbie Stabenow for her seat.

Rock, an outspoken conservative, endorsed Mitt Romney for president during his 2012 campaign. He told The Guardian in 2015 that he's a Republican on certain issues, but leans toward the middle on others.
Fox News reports, Rock also made comments fleshing out his stance of a couple of different issues.
"I am definitely a Republican on fiscal issues and the military, but I lean to the middle on social issues," Rock said. "I am no fan of abortion, but it's not up to a man to tell a woman what to do. As an ordained minister I don't look forward to marrying gay people, but I'm not opposed to it."
As noted by Fox News, if Rock actually wins the Senate seat in Michigan, he would be the first GOP candidate to do so since 1998.
Thank you for supporting MRCTV! As a tax-deductible, charitable organization, we rely on the support of our readers to keep us running! Keep MRCTV going with your gift here!