Some people seriously need to get a life. If you're someone that gets offended often by things that don't really apply to you, or you're an easily offended person in general, it's time to grow up and lighten up.
Actor and comedian Kevin Hart wasn't about to apologize for hosting a "Cowboys & Indians" themed party for his one-year-old son, Kenzo.
Hart faced a multitude of backlash from the instantly triggered, can't-appreciate-a-damn-thing, social justice killers of fun, after Hart's wife, Eniko Hart, posted a picture of the attendees of the party on Instagram. Some people online went as far as to say that the "Cowboys & Indians" party was tantamount to "playing black face."
Here's Hart's wife's Instagram post: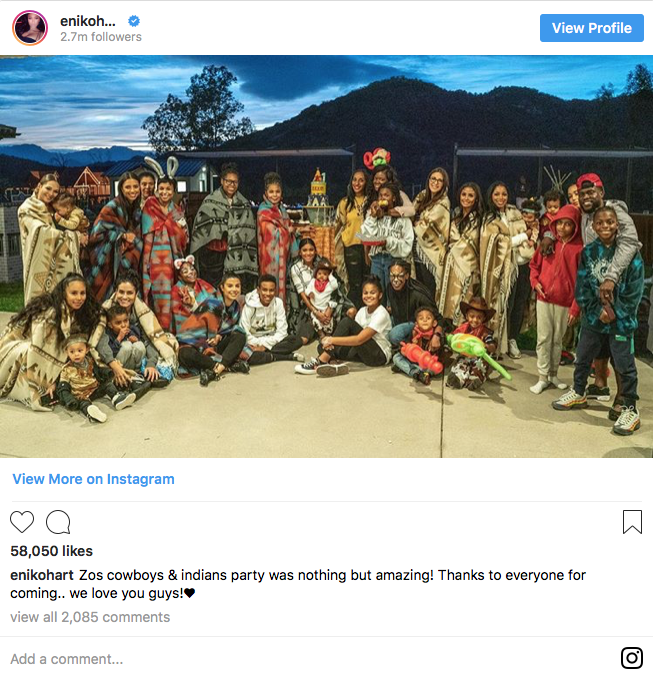 Hart wasn't having any of that crap, which is a nice change of pace from the typical soft, weak entertainers that immediately apologize for totally benign things. The larger-than-life, but diminutive in size comedian spoke up about the backlash on a recent edition of his SirusXM radio show, "Straight from the Hart."
"The reason why I'm even bringing this dumb sh*t up is because it shows just how stupid our world is becoming with opinions," the "Central Intelligence" star said. "People are at a point of an all-time high, to throw racial judgment into the development of a 1-year-old's birthday party where the theme is Cowboys and Indians, and it's based around the outfits that are given to these young kids."
Hart is dead on with his assessment of the situation. He's essentially wondering why this is even a topic of debate. Hart is simply showing, by explaining it in a direct manner, how completely stupid it is to get so offended by party theme that used to be a commonplace game that even I played as a child. Sometimes I was on the "Cowboy" side, and sometimes I was on the "Indian" side.
And by admitting that I played that game when I was a kid, if anyone doesn't like it, don't expect an apology. Won't happen.
Hart also brought up the "Cowboys & Indians" game that so many children used to play before being transfixed by screens in today's society.
"So as a kid, when you played these games, it was based off of the premise from a hypothetical place that was put into perception for movies," Hart said. "So what I'm saying - this isn't something that was just started. This isn't a racial slur that people are doing and being malicious with. This is a game that's been played for years."
When you get angry at a kid's birthday party theme, especially when the parents aren't trying to make some kind of "statement," you're probably at the point where you need to get a hobby.
Good for you, Mr. Hart. Continue to not back down to these weasels.
H/T: Fox News