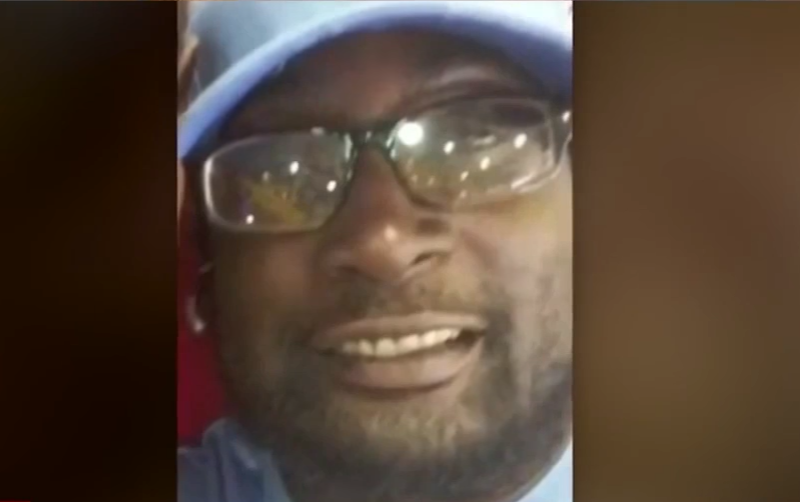 (Image: Screenshot/YouTube)
Facts should trump narrative. But don't tell that to the media, federal government, and "protesters" when it comes to police altercations with members of the black community.
Protests like the one in Charlotte, N.C. are a farce and nothing more than an excuse to cause unrest in communities across the country.
It's a strong stance, but why?
WTVD-Charlotte reported on Monday that the black man shot by a black police officer in Charlotte last Tuesday, Keith Lamont Scott, was carrying a stolen gun. His wife also filed a temporary restraining order against him in 2015 according to police reports.
WTVD-Charlotte reported the following:
The gun that Keith Scott had on him during the deadly shooting was reported stolen after a breaking and entering, police said.

The breaking and entering suspect told ATF Agents that he sold the gun to Scott.

The suspect is in custody.
The question of whether or not Scott had a gun on him when police took action against him looks more and more like it's closer to being answered.
As for the restraining order, Jenna Barnes of Time Warner Cable News wrote an article and tweeted out the following: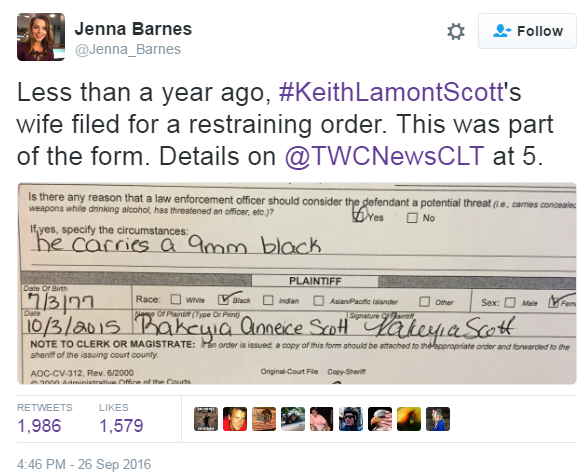 As you can see Scott's wife, Rakeyia Scott, filed a temporary restraining order against Keith Scott on October 3, 2015. Rakeyia subsequently rescinded the order voluntarily on October 16, 2015.
Barnes also reported that Rakeyia Scott wrote the following on the restraining order:
"He hit my 8 year old in the head a total of three times with is [sic] fist....He kicked me and threaten [sic] to kill us last night with his gun. He said he is a 'killer' and we should know that," she wrote on the form last October.
Not only that, but Keith Scott served prison time. According to the Daily Mail:
Scott, 43, had served more than eight years in Texas for evading arrest and aggravated assault with a deadly weapon, according to TWC News.

He shot a man whom he believed was making threats against his family, according to his attorney.

Scott had also been convicted for assault with a deadly weapon and DWI in North Carolina.
Now just because Scott has this background does not justify him being shot, but it gets closer and closer to confirming that could have been in possession of a gun. In that case, the officers have a right to take preventative action or just protect their own lives.
See what happens when you wait for all the information to come out? We can have a rational dialogue without burning down buildings, shooting other "protesters," blocking highways and attacking reporters and white people.