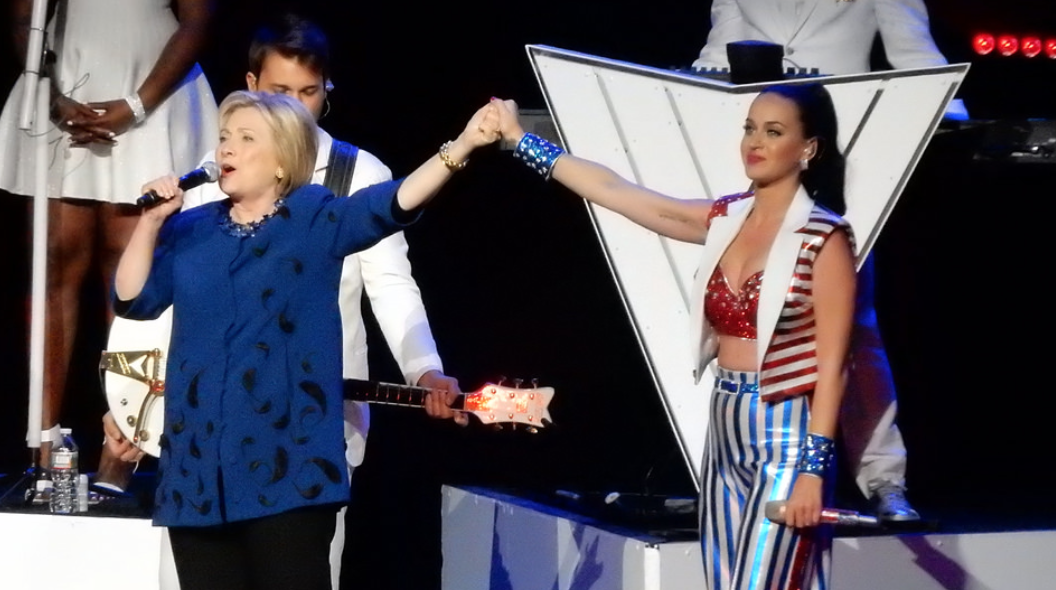 Pop singer Katy Perry, whose new album "Witness" has just been released, thinks that Hillary Clinton, despite losing the 2016 presidential election, has woken "a sleeping giant."
Perry, who was a vocal supporter of candidate Clinton, made the remarks about Clinton in a recent interview in NME magazine. 
An excerpt:
Faith in people is something Perry reiterates often. Although her album as a whole is less political than the charged (and did I say catchy?) 'Chained To The Rhythm' might have suggested, it's influenced by the turbulent times during its creation. Perry fully committed to Hillary Clinton's presidential bid and was arguably the Democrat candidate's most famous supporter, at one point even releasing a clip of herself heading out to vote in the nude. How did she feel when it didn't work out? "Oh, it worked. It worked," she says, with deathly seriousness. Er. How? "[Hillary] woke the sleeping giant and there's something bigger than her, than me, than any one person that is happening right now. Something brilliant is really happening, which is: people are waking up. People are waking up and we wouldn't have… we would have continued in the same pattern, in the same way, in the same comfort, in the same utopia. We're waking up, we're all voicing our opinions, we're all getting more educated, we know the names of [members of] Parliament and the names of [United States senators] more than we know the names of band members these days. That's how it should be, because those people actually help change our lives, sometimes."
NME writer Dan Stubbs claims that "Perry's latest album Witness is a reflection of her newfound political involvement, social awareness and the fact that she got "woke." Being woke is a euphemism for believing in leftist ideas about racism, sexism, patriarchy, and capitalism. It's a cute term for cultural Marxism.
"Do you know, it's so funny – don't you feel like we're in a race to become the most woke?" Perry told NME. "Somewhere along the way I realized that there is no destination, it's just a journey. Do you know what I'm saying? Can someone tell me where the starting line and the finish line of all the wokeness is?"
Thank you for supporting MRCTV! As a tax-deductible, charitable organization, we rely on the support of our readers to keep us running! Keep MRCTV going with your gift here!