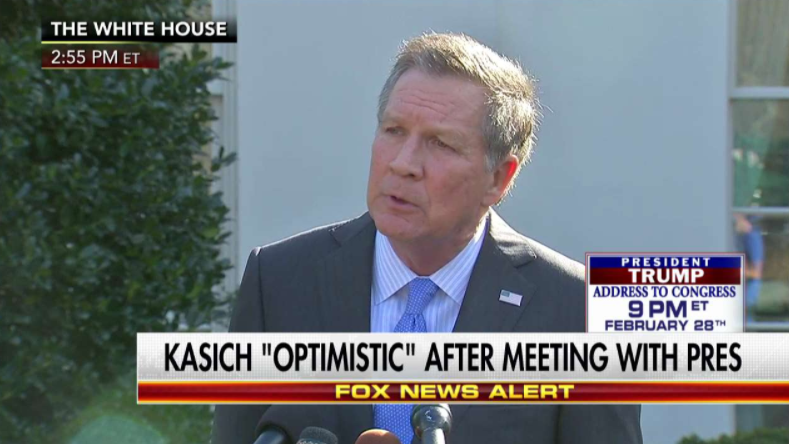 (Image via Twitter)
Ohio Gov. John Kasich met with his former rival President Trump at the White House on Friday.
Kasich, who ran for president in 2016 and dropped out of the race early May, described his meeting with Trump as "optimistic," adding that the President was "very generous with his time" and "listened a great deal to my concerns."
He suggested that he and Trump were ready to put their differences aside and cooperate to "put America first."
"I can have my opinions but it's time to be constructive," said Kasich.
"I'm not red or blue. I'm red, white and blue. I want to put America first," he said.
The Ohio governor withheld his endorsement of Trump after a bitter primary fight.  
He voted for the 2008 Republican presidential nominee, Sen. John McCain, instead of Trump in the general election.
When asked whether his opinion of Trump has changed since the election, Kasich replied, "The man is the President of the United States. It's sort of like being on an airplane. You want to root for the pilot… You don't want the pilot to screw up."
He added that he wishes President Trump the best, but will speak up if and when he disagrees with him. 
"I'm not trying to pull him down or anybody else down," said Kasich. "I want to put America first. Not my party or some arcane ideology. If I can help my country, I'm going to do what I can." 
Check out his remarks in the video clip below.
Thank you for supporting MRCTV! As a tax-deductible, charitable organization, we rely on the support of our readers to keep us running! Keep MRCTV going with your gift here!