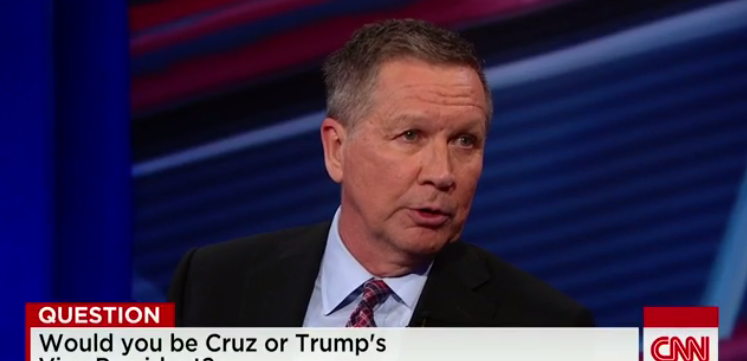 (Image via Screenshot)
In a town hall hosted by CNN Monday night, Ohio Gov. John Kasich said that there is "zero" chance of him being Sen. Ted Cruz or Donald Trump's vice president. 
"Zero. I'm not going to be anybody's vice president," said Kasich. "I would be the worst vice president the country ever saw. You know why? Because I'm not like a vice president. I'm a president."
"It's not so much about [being second-fiddle], Anderson. I'm running for the top job, and if I don't get the top job, I'm still governor of Ohio," he said.
Kasich went on to say that his supporters are growing in number and that he feels "optimistic going forward."
The Ohio governor is currently polling second in New York. The state's primary takes place Tuesday, Apr. 19.
Listen to his remarks in the video clip below.