Kanye West Wednesday night previewed his upcoming gospel album "Jesus is King" with a free concert in Los Angeles. 
The rapper, producer and outspoken President Trump supporter previewed his ninth solo album at The Forum. The event, featuring a large IMAX screen as the background, was free of charge.
According to ET, Ye's album includes a shout out to Christian fast-food chain, Chick-fil-A.
The lyrics to one song go, "Closed on Sunday, you my Chick-fil-A," referencing how the chain closes shop on Sunday's for church.
On the album and during recent performances, West responds to critics of his faith, saying, "Don't tell me how to really be saved. Don't tell me how to really follow Christ."
"The truth is inside the word," he said, during one of his Sunday Service events in Kingston, Jamaica last week. "It is your personal relationship with God."
West has held concerts in cities including Kingston, Jamaica, New York City, Calabasas, and Los Angeles as part of his Sunday Service series.
His album, "Jesus is King," and a corresponding IMAX film is scheduled to be released on Friday, Oct. 25.
His wife and biggest supporter, Kim Kardashian West, posted several videos from the Wednesday night event on her Instagram story.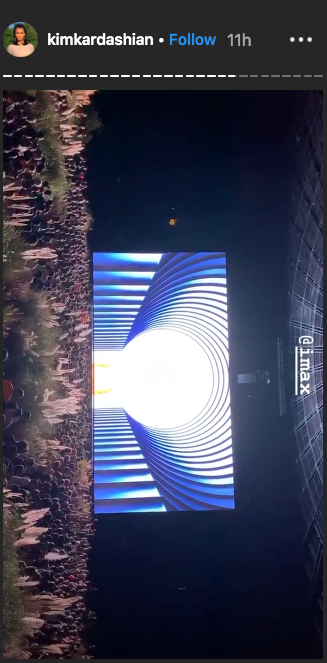 (Screenshots via kimkardashian Instagram)
She tweeted in August a track list from the album, with song titles such as "From the Ashes," "Water," and "New Body."