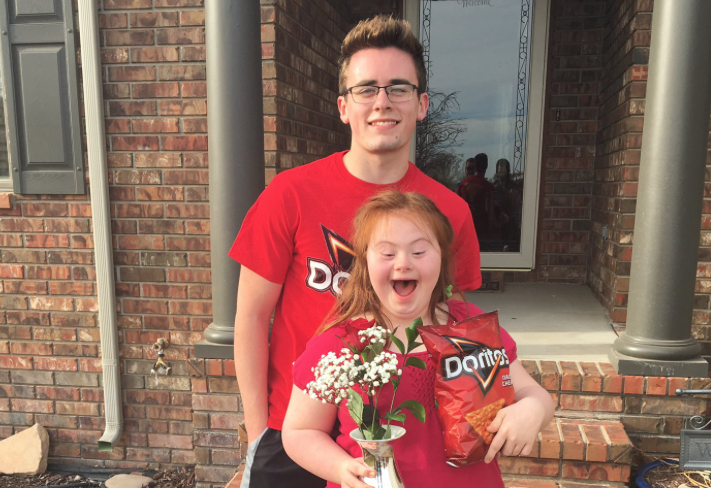 (Image: Screenshot/Twitter/@shardonwedel)
Every now and then, humanity gives you little victories.
An 18-year-old high school senior in Kansas thought long and hard throughout the school year to determine the best possible way to ask the girl he wanted to take to prom.
Shaedon Wedel, 18, has been friends with the Wittman family for seven years, and he even considers them like a second family. That's when he decided at the beginning of the school year to devise a way to ask 15-year-old Carlie Wittman, who lives with Down syndrome, to prom.
These days they're called "promposals," and it involves inventive ways to ask someone to the biggest high school dance in someone's life.
Wedel recalled that Wittman loves Doritos chips, so he decided to make a shirt with the Doritos logo on it and the following underneath and on the back, "I know I'm NACHO typical Dorito but…I'm going to be cheesy and ask: Will you go to prom with me?"
Wedel had both a bouquet of flowers and a bag of Doritos in hand as well.
"I decided on the Doritos theme because I have known her for 7 years and there has not been a day that I have not seen her eat Doritos," Wedel said. "She absolutely loves them!"
Wittman's response? An ecstatic "Oh my gosh" while covering her face with her hands and jumping up and down was exactly the response Wedel was looking for as Wittman's father helped her read the writing on Wedel's custom made shirt.
Wedel also told CBS News:
My main goal is to make her prom as special as possible. She says she wants to be a princess like Cinderella and it would mean everything to make her feel that way.
If only more people had the heart that Wedel showed just to make someone's day a little better, we would all be better off.
For video of Wedel's "promposal," watch below: