If you actually watched football on Sunday, you probably noticed one time-honored tradition missing from NFL broadcasts — the national anthem.
After waffling on sticking with their proposed anthem rule change, which stated that players who don't want to stand for the anthem had to stay in the locker room, the lack of the anthem being televised didn't stop some players from continuing to protest.
While Miami Dolphins wide receivers Kenny Stills and Albert Wilson were the only players who took a knee, there were many others who protested in other ways.
According to ESPN:
While Stills and Wilson were kneeling during the anthem, teammate Robert Quinn raised his fist. Niners receiver Marquise Goodwin did the same before San Francisco's game at the Minnesota Vikings. In Los Angeles, Chargers left tackle Russell Okung raised his fist. Broncos receiver Demaryius Thomas and linebacker Brandon Marshall, as well as Seattle Seahawks linemen Duane Brown and Quinton Jefferson, retreated to their respective tunnels in Denver while the anthem played.
Meanwhile, unemployed quarterback Colin Kaepernick continued his quest to stay relevant by tweeting praise for Stills and Wilson.
Here's the tweet: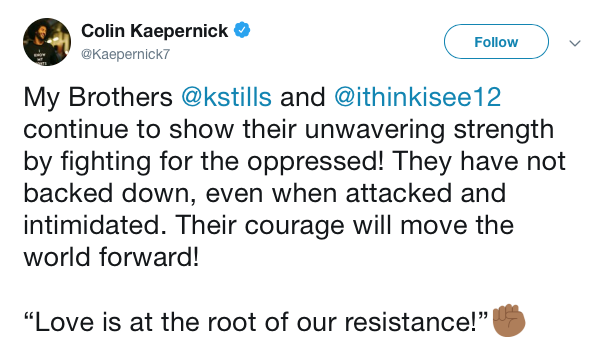 If love is at the root of Kaepernick's "resistance," then why did he present himself as a militant protester? Remember, this is the same guy who wore t-shirt of late Cuban dictator Fidel Castro in 2016. This is also the same guy who wore socks portraying police officers as pigs.
It'll definitely be interesting to see what the TV ratings were for the first week of NFL regular season games, which should be completely available by Tuesday.
The opening game of the season between the Atlanta Falcons and defending Super Bowl champion Philadelphia Eagles saw ratings plunge eight percent from the 2017 opening game. It was the lowest opening game rating for the NFL since 2009.