What do you call a soft, weak, quivering feminist in charge of an entire country? Justin Trudeau, of course!
Apparently, Canadian Slime Sinister — sorry, Prime Minister — Trudeau was speaking at a town hall meeting at MacEwan University in British Columbia this past Friday. Video of what happened is now gaining steam.
The ultra "woke" Trudeau interrupted a woman who used the word "mankind" in order to correct her misogynistic use of the term.
"We like to say 'peoplekind,' not necessarily 'mankind,' because it's more inclusive," Trudeau interjected while the feminists in the audience howled and cackled. "We can all learn from each other."
According to the Washington Free Beacon:
Trudeau took a question about religious nonprofits from a woman affiliated with the World Mission Society Church of God. Canadian regulations place restrictions on volunteering with religious organizations, and the woman asked whether the government could loosen those regulations, as she discussed her church's theology of God's maternal love.
Here's video of the exchange:
There's that barf bag rearing it's ugly head again. Although — to be fair — Trudeau is typically very vomit inducing.
Notice how Trudeau had no problem with the "maternal love" aspect of the question, but he was immediately triggered — like he usually is — by anything referencing men. Although it doesn't help when he has no concept of what a real man is.
People on Twitter wasted no time in calling Trudeau out for his "correction":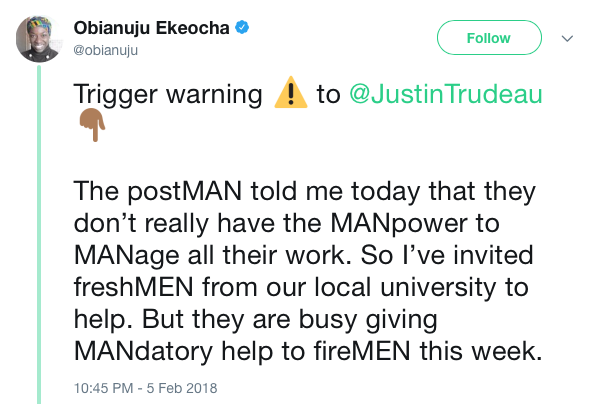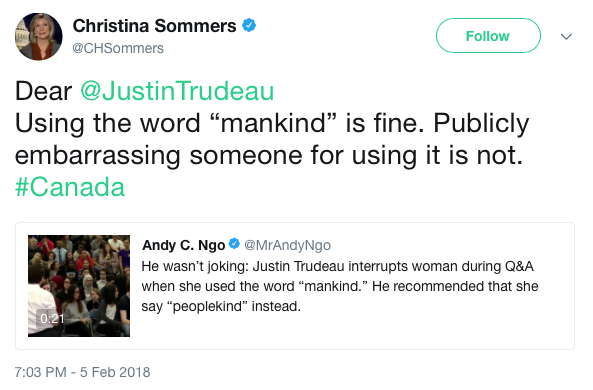 For Trudeau's sake, hopefully he finds his "man"hood at some point.
H/T: Conservative Review