With one of the biggest movies in comics coming to the big screen with the premiere of The Justice League, some critics have expressed outrage over some of the costumes featured in the movie. But one actress involved in the project had a different view. 
Some users pointed out that the Amazonian costumes featured in the set photos of Justice League were much more revealing than those featured in last summer's Wonder Woman. Here's one Twitter user who wasn't pleased:
In case you wonder: Here's a picture of how the Amazons looked in Wonder Woman...next to pic how they look in Justice League. First designed by Lindy Hemming, second by Michael Wilkinson.

Some steps backwards, methinks. pic.twitter.com/IVqeX7PBso

— Atte Timonen (@Rosgakori) November 12, 2017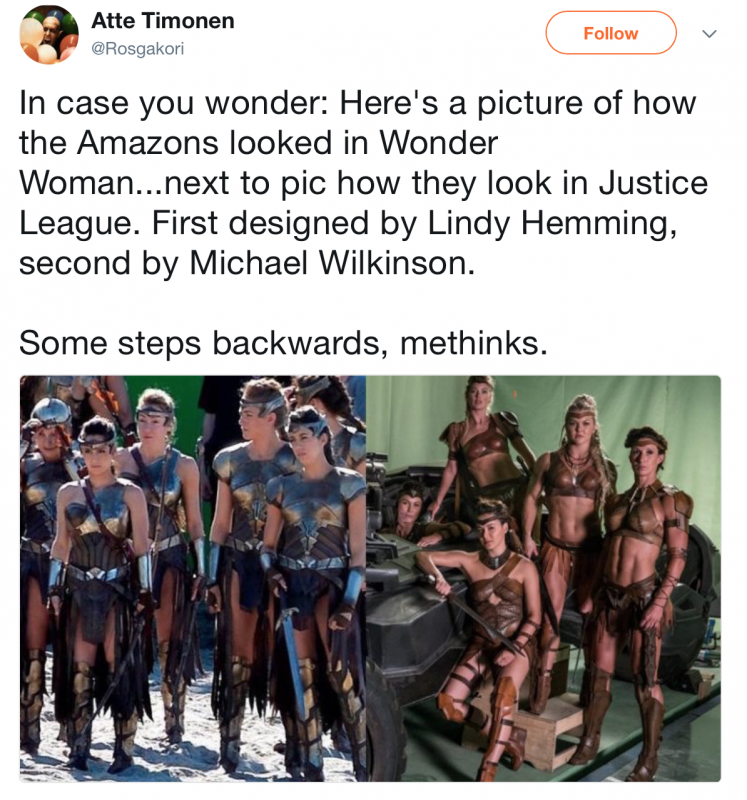 There are obvious differences between the costumes -- namely that one is pretty covered, while the other...well, isn't. But one of the actresses featured in both movies says she's O.K. with the new look.
Brooke Ence, who plays an Amazon in both of the DC films, told USA Today at the Justice League premiere that the new costumes "didn't bother me at all." Ence, who is also a CrossFit champion, told USA Today that "the girls on set, we never thought of (the new costumes) as a sexy version. It felt a little more glamorous, if anything, because we had bigger, beautiful hair, which I loved."
"I'm an athlete first, right? (Usually) I can't wear anything without someone commenting on my (muscular) body," she continued. "So for me, it was actually really cool to be able to show it and not immediately feel masculine, but still very feminine."
Ence added that not every one of the Amazon women wore the two-piece costume. And it looks like a few fans agreed,  joining Ence's pushback against the outrage.
One fan posted a photo of the actresses in the Wonder Woman film wearing similarly skimpy outfits:
Another user found a Justice League set photo of the Amazon's dressed in armor looking more like they did in Wonder Woman. 
At this point, it's more probable that the costumes only reflect an homage to the source material than the proposed male gaze that some users were complaining about. Sure, Hollywood is full of scandal, but this issue can be put to rest.
Thank you for supporting MRCTV! As a tax-deductible, charitable organization, we rely on the support of our readers to keep us running! Keep MRCTV going with your gift here!