Following a report by Variety claiming that alleged hate-crime hoaxer Jussie Smollett would be returning to the sixth and final season of FOX's "Empire," co-creator Lee Daniels took to Twitter Tuesday night to set the record straight.
"This is not factual. Jussie will NOT be returning to Empire. –LD," he wrote.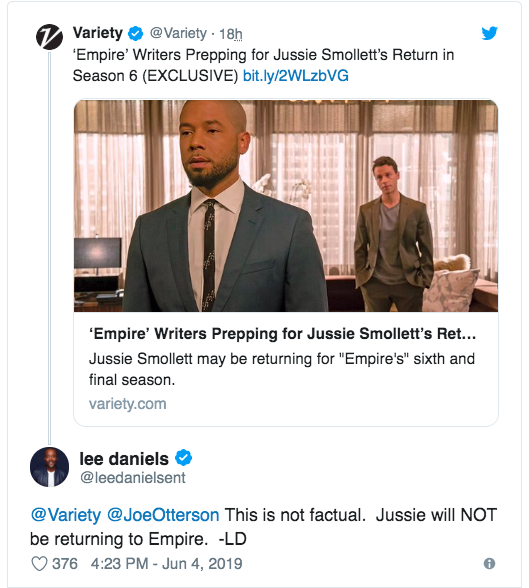 The news comes after it was revealed in April that the Fox Entertainment studio successfully "negotiated an extension to Jussie Smollett's option for season six," though there were "no plans [yet] for the character of Jamal to return to 'Empire.'"
At the time, a spokesperson for Smollett -- who was written out of the final episodes of Season 5 -- also told Fox News: 'We've been told that Jussie will not be on Empire in the beginning of the season but he appreciates they have extended his contract to keep Jamal's future open. Most importantly he is grateful to Fox and Empire leadership, cast, crew and fans for their unwavering support.'

In February, Smollett was accused of faking a hate-crime attack against himself in Chicago. He strongly denied the allegations and has maintained his innocence. Prosecutors later dropped all 16 charges against him.

Daniels has stood by Smollett while the 36-year-old faced legal drama for his role in the alleged hoax. In April, the TV and film writer, 59, spoke up on Smollett's behalf, saying he wanted the actor to know that he'd always have a support system.
Daniels back in March took to Twitter to express his and the "Empire" cast's "pain and anger" in the wake of Smollett's fallout for the alleged staged hate crime.
"And [we] really don't know how to deal with it, you know," he said.
The cast in April wrote a letter to Fox Entertainment asking that they bring Smollett back for season six, describing him as "honest" and proclaiming his innocence, as MRCTV reported.
Daniels did not sign the letter.
MRCTV Reader,
The liberal media are terrified of the truth, especially when it leads to uncomfortable questions about their own leftist worldview.
MRCTV is the multimedia division of MRC featuring original content and aggregated videos of the news, people, and events conservatives care about.
MRCTV relies on the support of our loyal readers (and video viewers) to keep providing the news and commentary that matter to the American people, not just stories that prop up the liberal agenda.
Make a donation today. Just $15 a month would make a tremendous impact and enable us to keeping shining the light where the liberal media are afraid to tread.
— The MRCTV Team
DONATE
Connect
Sign up for our MRCTV newsletter to receive the latest news.
Sponsored Links