The Left has never had a problem with holding one standard for people they disagree with, while holding a complete opposite standard for "one of their own."
The juxtaposition of the sexual assault allegations concerning Supreme Court nominee Brett Kavanaugh and former President Bill Clinton is a prime example.
Juanita Broaddrick, one of the many women who've accused Clinton of sexual misconduct and/or assault over the years, took to Twitter late Tuesday evening blasting the Left's hypocrisy and lack of compassion toward women who've accused someone on their side of the aisle. In her tweet, she called out former First Lady Hillary Clinton for suggesting Kavanaugh accuser Christine Blasey Ford should get the "benefit of the doubt" and calling for the FBI to investigate her allegations.
Check out the tweet below: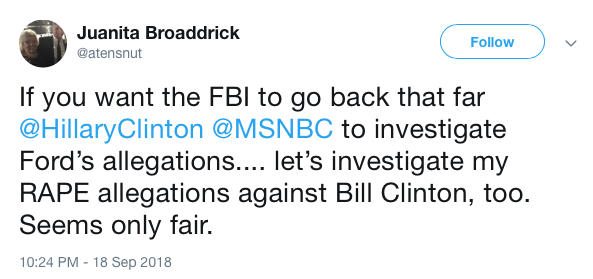 Is she right? Of course she's right. If those on the Left want to investigate a claim from 35 years ago against Kavanaugh, why can't they go back just a few more years and investigate Broaddrick's claims? The Left has no good reason not to — except that if Clinton were investigated and found guilty, it would make them look really bad. So good luck getting a new investigation into Clinton.
That shouldn't discount Broaddrick's allegations, but it's the reality. The Left will never allow their living patriarch to be touched without a hell of a fight.
This is what the Washington Post published about Broaddrick and her claims in 1999:
Now, after years of laboring to avoid the public spotlight, Juanita Broaddrick, the woman known in government documents only as "Jane Doe No. 5," has decided to speak out about her sensational yet ancient and unproven allegation that the future president sexually assaulted her in a hotel room a generation ago.
That's a perfect example of how the Left believes every woman's claims -- unless they're trying to take down someone on the Right. The Post discounted Broaddrick's claims almost 20 years ago and will continue to do so now.
If you need even more examples of the Left's double standard, take a look at failed Democratic presidential nominee Hillary Clinton on MSNBC Tuesday:
So why does Kavanaugh accuser, Christine Ford, get the "benefit of the doubt," but the many women who've raised accusations against her unfaithful husband don't even get a mention?
The Left may publicly question Clinton's past indiscretions, but they won't be the ones to call for an investigation into the 42nd president — especially since they have a SCOTUS nominee to take down.