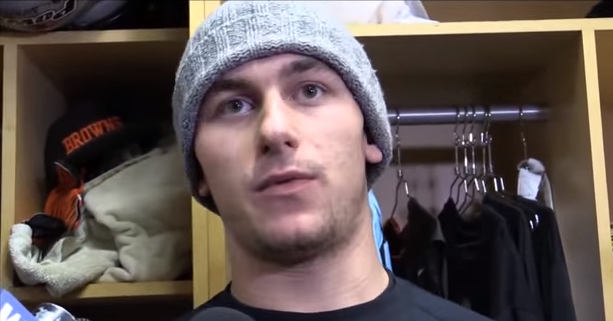 A Dallas County Grand Jury indicted Johnny Manziel on a misdemeanor assault charge on Tuesday.
The former Cleveland Browns quarterback and Heisman Trophy winner allegedly struck his ex-girlfriend back in January.
According to the Associated Press:
His indictment stems from allegations by his ex-girlfriend, Colleen Crowley, who alleges that he accosted her at a Dallas hotel and later struck her when they drove back to her apartment in Fort Worth[…]Crowley alleged she and Manziel had a confrontation in the hotel room that eventually continued downstairs to the valet station. She said he forced her into a car and a valet disregarded her pleas for help. The two eventually drove to where her car was parked in front of a Dallas bar, she said in an affidavit. She said Manziel got into the driver's seat and began to drive. Crowley said Manziel stopped when she tried to jump out of the car, but then he dragged her back inside and hit her.

She also said in the affidavit that Manziel threatened to kill himself as he drove her back to Fort Worth, about 30 miles west of Dallas, where police were called.
Manziel's attorneys are seeking a deal with prosecutors that would enable Manziel to avoid prison time, and instead undergo "anger management or domestic abuse" counseling. He may also have to enter substance abuse rehab.
Manziel has been in a tailspin since entering the NFL in 2014, and has had a number of very public incidents involving partying and consuming excessive amounts of alcohol.
Can 23-year-old Manziel get his potential-filled career and his life back on track? Only time will tell.