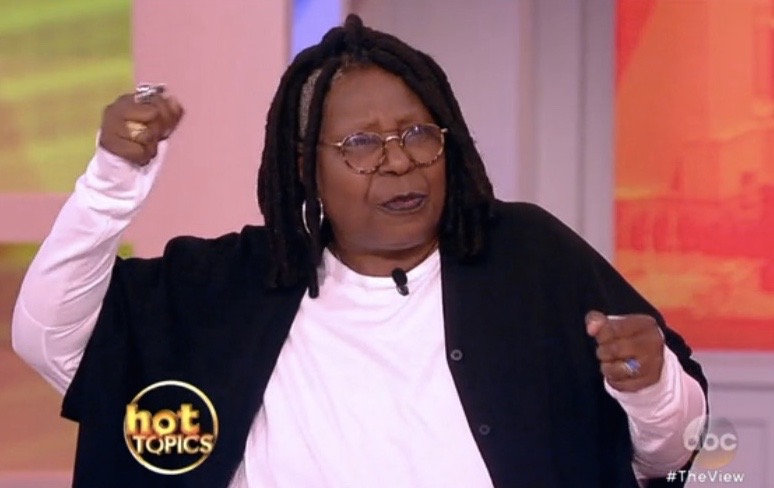 Karen Elaine Johnson, who goes by the nom de plume of Whoopi Goldberg, brought some controversy upon herself last week when she defended Bill Cosby against rape charges - despite the fact that he admitted he drugged women with Quaaludes. On his weekly HBO program, "Last Week Tonight," John Oliver mocked Goldberg's defense by putting together a video of ten times Whoopi defended really indefensible things, or explained her belief in conspiracy theories. 
On Wednesday's "The View," the comedienne lashed out at her critics saying she received threats since she defended Cosby the day before: 
People have been coming after me and saying they're going to snatch my family," the co-host and comic, 59, said in a bracing monologue. "It's like being Frankenstein, people coming after you with the fire and they're going to burn you." 

She didn't apologize for her stance. Quite the opposite. She reiterated that Cosby, 77 – who admitted in 2005 court documents, unsealed this week, that he gave Quaaludes to a woman and then had sex with her – should be considered innocent until proven guilty. 

"Not any of you threatening me or telling me you're coming after me because you don't like what I said is going to change the fact that no one has convicted him, he has not been arrested," said Goldberg, who said the threats came after she discussed the matter Tuesday on The View. 
As John Oliver proves in the video below, this isn't the first time Whoopi defended the unforgivable actions of others.  Among the clips he uses is her famous "I don't believe it was rape-rape" defense of director Roman Polanski who fled the country after being accused of having sex with a 13-year-old, and Goldberg withholding judgment of singer Chris Brown after he brutally beat his girlfriend at the time, Rihanna, prior to the Grammy awards.
Goldberg defended Mel Gibson and those infamous taped phone calls Mel made to his girlfriend, where he spewed racial epithets such as "if you get raped by a pack of n***rs, it will be your fault." On this series of recordings, Gibson could also be heard calling Hispanics "wetbacks" and threatening violence against his girlfriend.  Keep in mind that this incident comes during a period where Gibson was making a comeback after being shunned for his rabid anti-Semitism.
Whoopi's reaction to Gibson's comments, part of which can be seen in the video below, was that, while she does not condone what he said, she knows Mel, he has been over her house and
she does not think
Mel Gibson is a racist or an anti-Semite.
Not a racist?  What the heck is she talking about?  The man used the "N" word more times in one phone call than a rap singer uses in his entire life. What does he have to do for her to call him a racist: break into Wal-Mart in the middle of the night to steal all the white sheets and lighter fluid?  How can Whoopi not believe it was anti-Semitism when Mel Gibson told a police officer ""F**king Jews…the Jews are responsible for all the wars in the world." Perhaps, it's just me, but that doesn't sound like a term of endearment. 
Apparently Goldberg also has issues with the truthfulness of the moon landing - though, she better be careful, because Buzz Aldrin (the second man on the moon)
once punched someone
for claiming the moon landing was fake.
Watch the funny John Oliver video below: