Ugh…Joe Biden.
A name that would make even the most accepting of people cringe. Whether the former vice president is creepily lurking behind someone or saying something that leaves people scratching their heads, Biden is the "cringe-worthiest" of them all.
Biden recently sat down for a public "conversation" with University of Pennsylvania president Amy Gutmann at the Penn Biden Center for Diplomacy and Global Engagement, where he went public with his view that the Second Amendment is an "irrational policy" that has been "very badly interpreted."
It all stared when Gutmann commented how the "young people" organized the March for Our Lives (when in fact the whole event was backed by multiple Leftist organizations, ironically according to Buzzfeed).
Biden chimed in with his two cents, invoking former Supreme Court Justice John Paul Stevens' hot take in a New York Times op-ed that the U.S. should repeal the Second Amendment.
I think the 2nd Amendment is being very badly interpreted. It's not consistent with what they're — our founders intended — in my view. You saw Justice John Paul Stevens say that we should — because it's been so prostituted — we should repeal the 2nd Amendment. It was about a standing militia. It's a long story. I won't go into all the legal side of that having taught it in law school. But there's rational or irrational policy.
Biden would know, because he was there when the founders of this country wrote the Second Amendment. And, is it just me or did Biden call the Second Amendment an "irrational policy?"
As far as the prostitution comment goes, Biden should choose his words carefully. Biden's own wife once attempted to be a pimp when she donated to Planned Parenthood in Vice President Mike Pence's name in 2016. Apparently, Roe v. Wade is one of their "ladies."
Here's Jill Biden's tweet: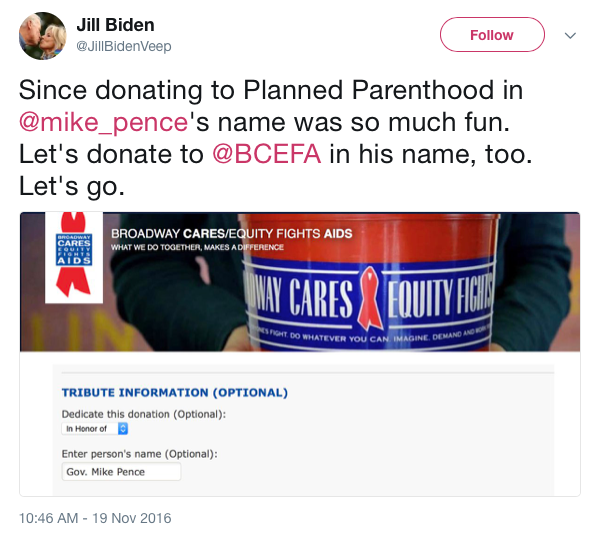 Biden talks a great self-righteous game, but when it comes to brass tacks the pot has no room to call any kettle black.
However, Biden wasn't done referring to the Second Amendment as a lady of the night.
"What's happened here is, the nation as a whole has decided it can no longer, in my view, continue to turn a blind eye to the prostitution of the 2nd Amendment here," Biden said, "and no longer can turn a blind eye to the enormous damage being done, not just in our schools, but on our streets, right here in Philly and Wilmington, Delaware, where I'm from, every night."
Just like a typical Leftist: deflect blame, disparage target and then instill fear.
Radical Leftists are gearing up to attempt to take American citizens' rights away. They know that if the Second Amendment falls, the other amendments will follow suit. The people in power just hope that their protesting lemmings don't figure that out until it's too late.
For Biden's full comments, watch below: