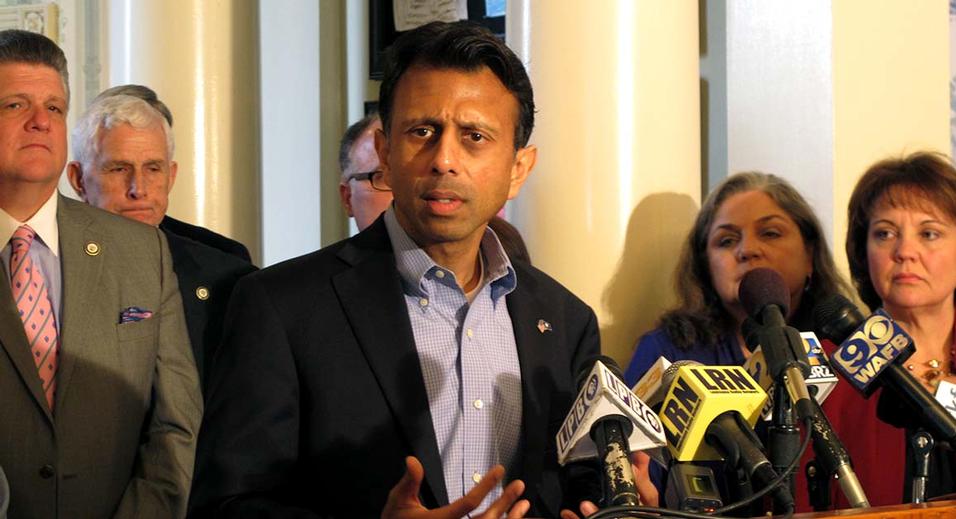 Governor Bobby Jindal (R-LA), who is expected to jump into the 2016 presidential race, says that the next president should be a governor.
Like him.
Jindal was asked why he would would be a better candidate than Senator Ted Cruz and while he didn't attack the senator by name; he made the case that the primary process would be better served if it wasn't dominated by candidates who work inside the beltway.
"Well look, the voters get to decide. D.C.. insiders would like us to clear the field, have no debates. That's nonsense," said Jindal. "The voters get to decide that."
Currently, there are several governors and former governors who are expected to jump into the 2016 race for the GOP nomination.  Former Florida Governor Jeb Bush and Wisconsin Governor Scott Walker currently lead the field in most early polls.  New Jersey Governor Chris Christie is also expected to get into the race. Additionally, former Texas Governor Rick Perry and former Arkansas Governor Mike Huckabee are openly flirting with the idea of running.
While many of the fresh faces in the GOP are currently serving in the U.S. Senate, governors have a fairly successful track record when it comes to winning presidential elections in the modern era.  
Jimmy Carter was the governor of Georgia and was replaced in 1980 by Ronald Reagan, who was the governor of California.  Following that, Arkansas governor Bill Clinton won the White House and was succeeded by Texas Governor George W. Bush.
Many argue that governors are more qualified to serve as president due to their executive experience.
President Obama is the first sitting senator to be elected president since John F. Kennedy in 1960.  

MRCTV wants to know what you think.  What type of political background should the next G.O.P. presidential nominee have?
What Type of Political Experience Should the 2016 G.O.P. Nominee Have?